Create a simple Puppet Show with our darling Goldilocks puppets that will have kids using their imaginations for hours!
Here are a few more printables that kids will love – Are We There Yet Road Trip Game, Toilet Paper Roll Butterfly Craft, and Printable Coloring Pages.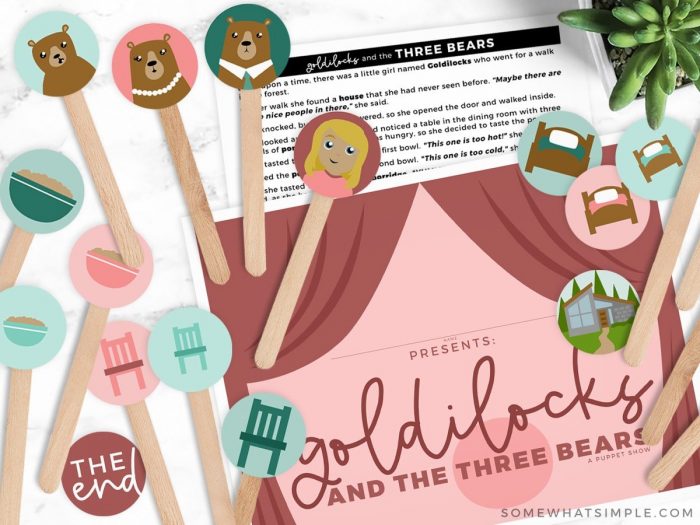 Oh, the good ol' days when kids ran around outside, playing make believe and creating a whole wonderful world with their imaginations. Miss those days? We do, too. And so I decided to get back to basics and create an insanely simple Outdoor Puppet Show with one of my favorite Fairy Tales – Goldilocks and the Three Bears!
My kids loved using their creative side with this! They rehearsed, then put on a show for me and grandma that was simple, sweet, and totally cute! I loved seeing them tell the story in their own words and make up voices for all the characters – it was so fun!
If you want to do this activity with your kids, here' how –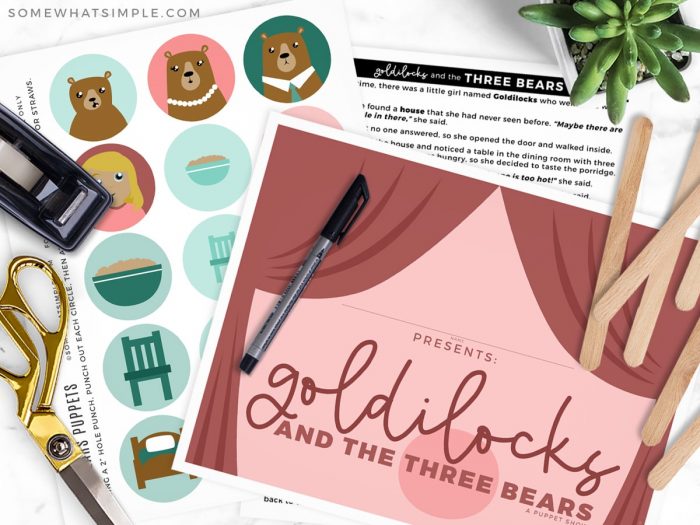 Goldilocks and the Three Bears Puppet Show
SUPPLIES –
puppet show printables (download below)
scissors
tape
popsicle sticks
DIRECTIONS –
Print and cut out all the puppet images.
Tape each image onto some popsicle sticks.
… that's it! You're ready to go!
Puppet Show Printables
This kit comes with all the puppets that you can attach to popsicle sticks, and a printable version of the story for easy presenting. Enjoy!
HAVE FUN!