Jewelry, tech gifts, funny ideas, and more! Here are one dozen Graduation Gifts that will make every graduate feel supported and loved!
Here are a few more graduation ideas we think you'll love – Graduation Money Gift, Graduation Printables, and Graduation Cupcakes.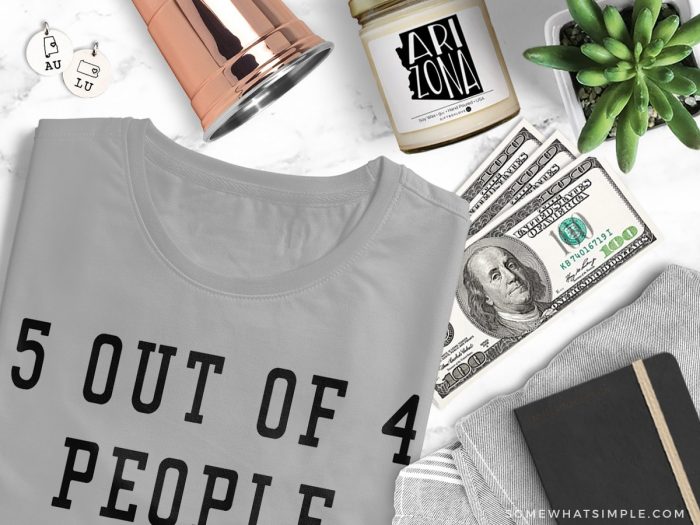 Looking for the perfect gift for your high school or college graduate? We're sharing 12 of our favorite graduation gifts that fit every budget and style! Take a look –

Sentimental Graduation Gifts
Framed Art – Wall art is always appreciated, especially when it's customized with their favorite memories. Give them a gift that will help them cherish the good times as they head into their next chapter of life!
LeatherJournal – A thoughtful gift that's personalized and will last forever!!

Graduation Jewelry
College Necklace – Great for a high school graduation to celebrate college acceptance, or a college graduation to remember all the fun!
Friendship Bracelet – Tie this bracelet to the recipients wrist with 3 knots. Have them make 3 wishes. Legend has it once the bracelet falls off naturally the wishes may come true.

Tech Gifts
Computer or Laptop – If you're looking to splurge on your favorite graduate, consider gifting them a new laptop. With the amount of wear and tear put on a computer during school, it's a great time to get a new one.
Echo Show – So many uses for this, and it is perfect for small spaces – college dorms, apartments, etc.

For the Homesick Graduate
Homesick Candle – A different scent for every state in the US so you can carry a bit of "home" with you!
Weighted Blanket – This blanket mimics the feeling of being held, or hugged, to reduce anxiety and improve mood.

Funny Graduation GIfts
Copper "SOLO" Cup – A slight upgrade from the red cup college students might be used to.
Math T-Shirt – For those graduates who don't claim math to be their strong suit.

Money Gifts for Graduates
Money Machine – A fun way to give them what they really want!
Gift Card + Money Tree – Add cards, gift cards and cash !This would be great as a group gift, too!
Did we miss anything? We'd love to see your ideas!
Leave us a comment in the section below and tell us all about it!