You and your family are going to LOVE this Back To School Dinner Idea! We've got darling printables and ideas that will make this fun family night a breeze!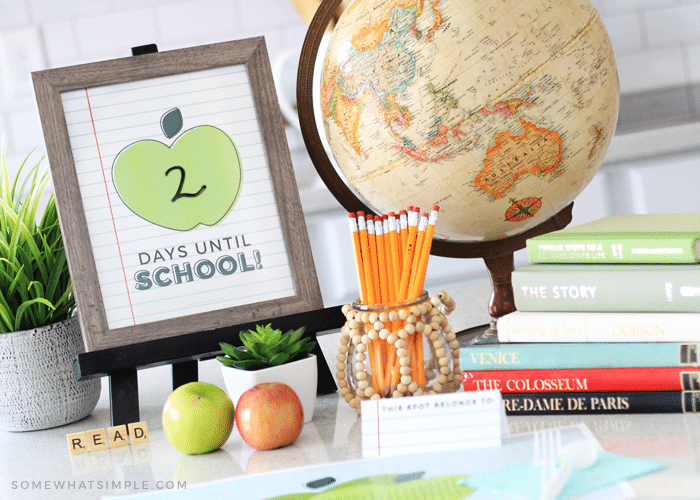 A simple yet adorable Back To School Dinner
Question: What do you get when you combine a creative meal and back to school shopping?
Answer: A fun back to school dinner that will soon become a new family favorite tradition!!
How to plan a fun, successful Back To school Dinner
"Back to School" is the theme for the night! A school lunch inspired meal and fun school themed decorations will help set the mood for a night to remember! Create a fun center piece by displaying school items. Things like books, a map or globe, rulers… The sky's the limit!
supplies:
Our Back To School Dinner Pack (download link below)
Centerpiece items
Paper or foam tray OR paper lunch bags
Lunch or cafeteria food
Pens or pencils to fill out their goals and shopping lists, and to find the words on their placemats
Any cutlery you might need
Napkins
Frame + dry erase marker for the BTS countdown
And don't forget to adorn your home with our matching School-Themed Banner printable!
Follow along as we show you how to create the perfect Back To School Dinner for your family!
First, download and print off our Back To School Dinner Pack. Please note that the placemats need to be printed on 11×17 sized paper. I sent mine into a print shop and it only cost me a few dollars for placemats for everyone.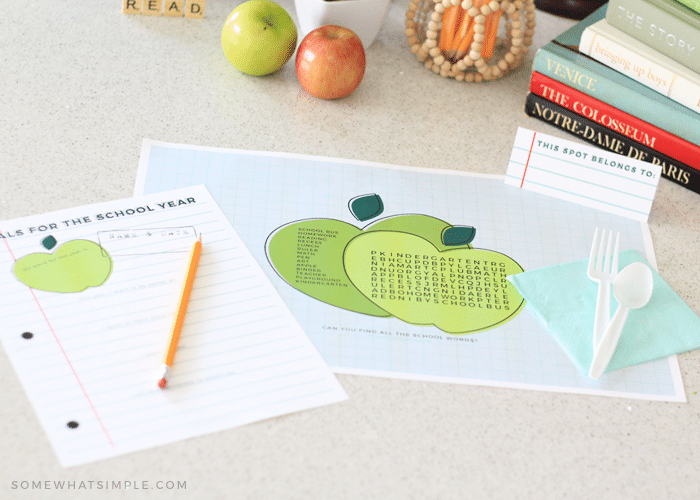 Set your table: write your family's names on the name cards, make sure everyone has a place mate, goal chart, shopping list, and pen or pencil.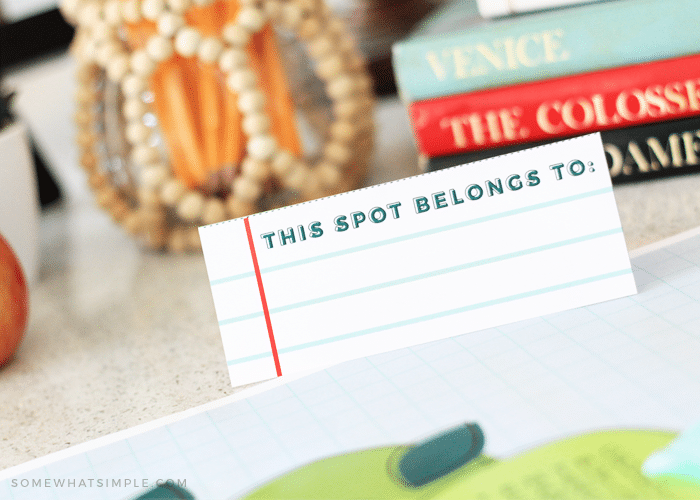 Place your School Countdown into a frame, and write in the days with a dry erase marker.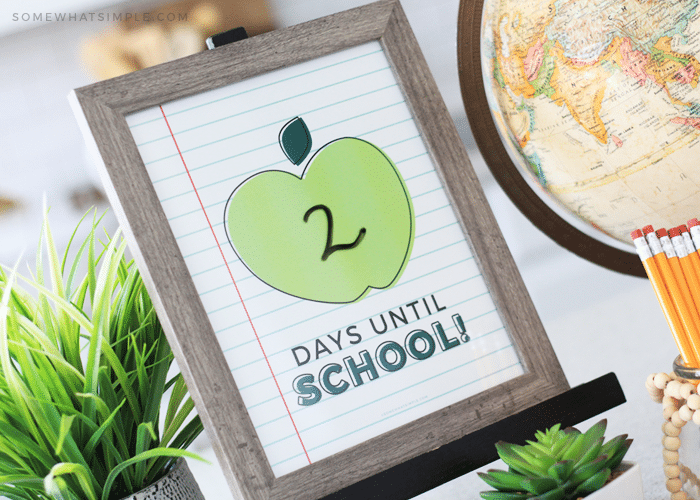 If choosing to use lunch bags: Grab your items (sandwich, juice box, fruit, veggies, etc.) and place into the bag. Our name cards fit perfectly over the lunch bags, so just write out the name of each family member and staple it to the top.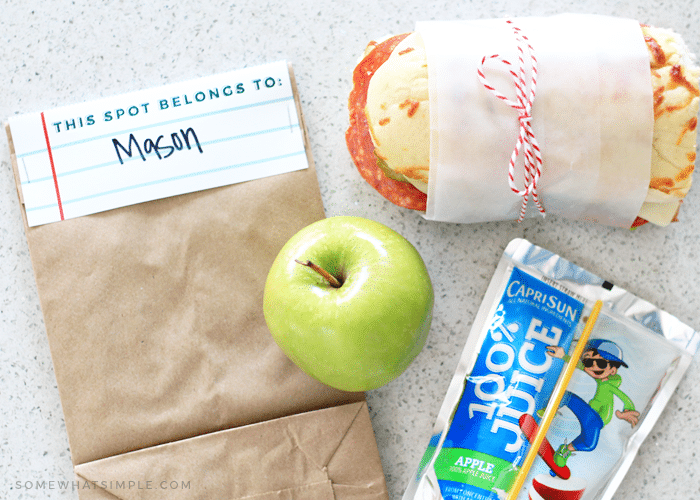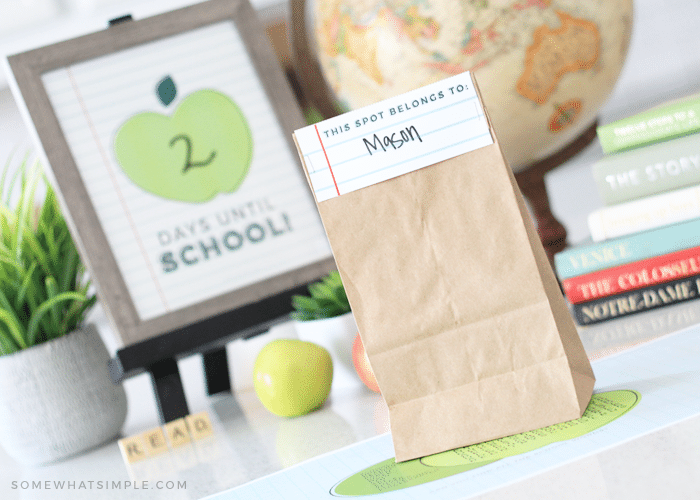 If using the trays, you could pre-set the food out, or set up a buffet station to simulate walking through the cafeteria and filling your tray with a variety of food. I found these trays at the dollar store.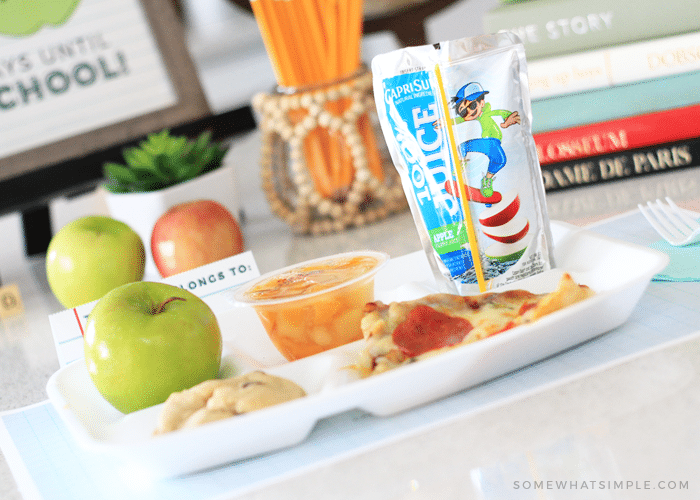 After dinner it's time to cross some back to school shopping off your "to do" list. Grab a pen and make a list of what school supplies your kids are in need of! Pens, paper, note books, back packs. It's time to hit the store to stock up on supplies! This family outing is fun together time!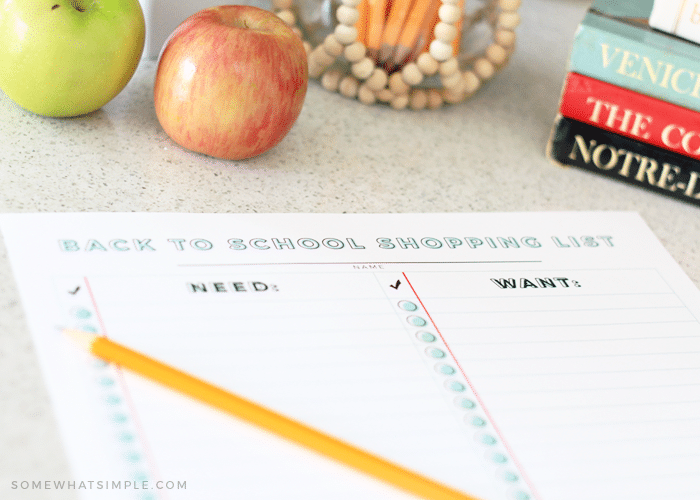 Tips:
Dinner conversation can be a fun one on a night like tonight! Talk about your past first days of school or what you looked forward to as a kid when it came to returning to school! Share past school memories with your family as you dine school lunch style!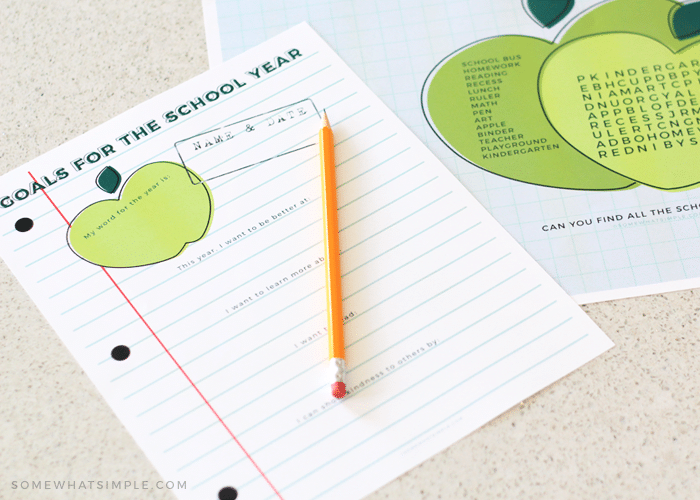 While filling out your school-year goals sheets, it might be fun to talk about what everyone put down. Let your kids see how similar everyone's goals are, and even mention what your goals as a kid where.
Ready to have your own fun Back to School Dinner?
Click here to download our BTS Family Dinner Pack!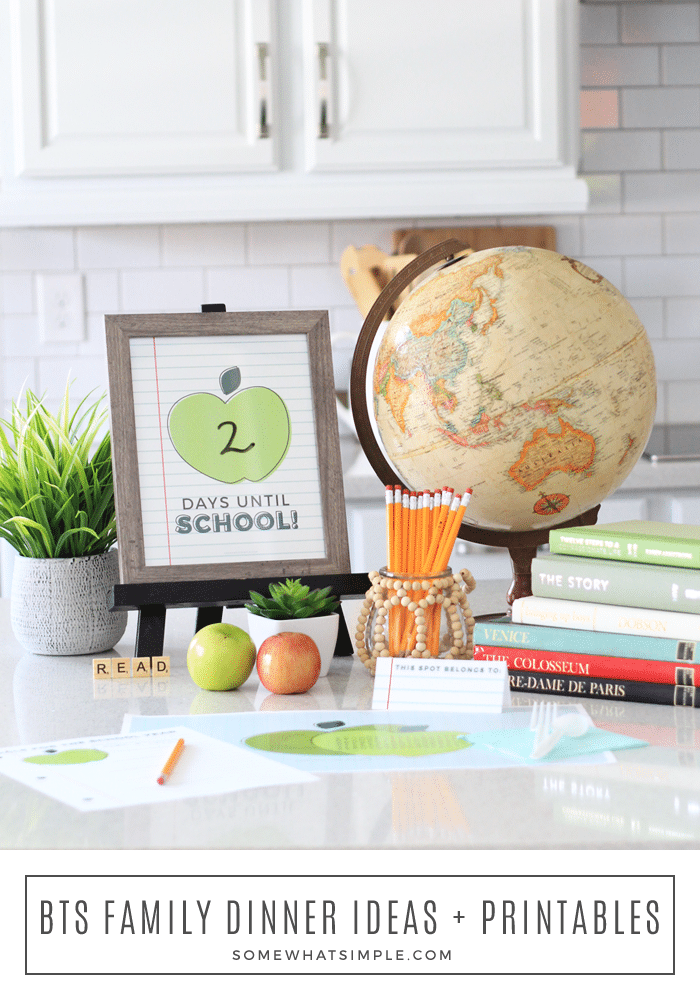 I am convinced that "Family Date Nights" are worth the effort! Just like investing in dating your spouse, investing in creative special time as a family is just as important! You are setting the stage for a healthy relationship with your kids. They will feel your enthusiasm and feel loved and important and what more could we want for our kids!
This post was originally published in 2013, and was updated in 2018 with new images and printables.