Reindeer Headband and Printable Christmas Cards for Kids
Spark the magic of Christmas with these darling printable Christmas cards for kids. An easy and fun way to say, "I love you Deer-ly".
Send grandma and grandpa another cute gift from the kids by making a simple Fingerprint Wreath or Scrap Paper Christmas Tree!
When Leah was in Kindergarten (10 years ago!) she came home one day in December with a red-painted nose and a reindeer headband on. She simply said it was for a card she made with her class, but that's all she told me. A couple of weeks later, she handed me and my husband a darling card with a picture of her dressed as a reindeer with the words "I love you Deerly" printed underneath.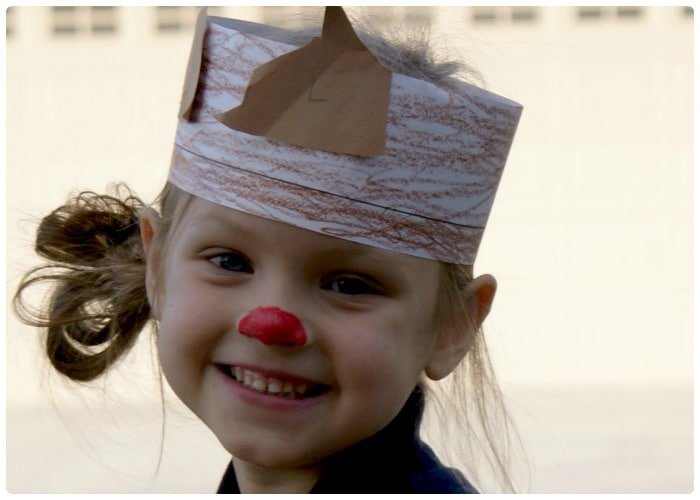 Even after all these years, this is one of my very favorite cards – and it's such a fun Christmas craft too!
If you're looking for a fun, FREE Christmas card that you can send to grandpa and grandma this holiday season, we've made it even cuter with a free reindeer headband template AND a few printable card designs.
Here's how to make it –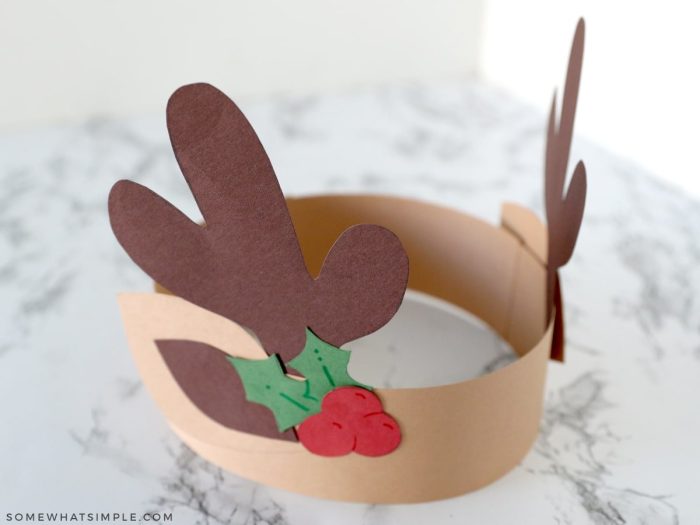 DIY Reindeer Headbands
This is the perfect card and craft projects to make with your classroom. Children of all ages (and the recipients!) will love the personal touch these Rudolph headbands add to their cute card.
MATERIALS –
headband template (download below)
scissors
glue
colored pencils/ crayons OR colored paper
stapler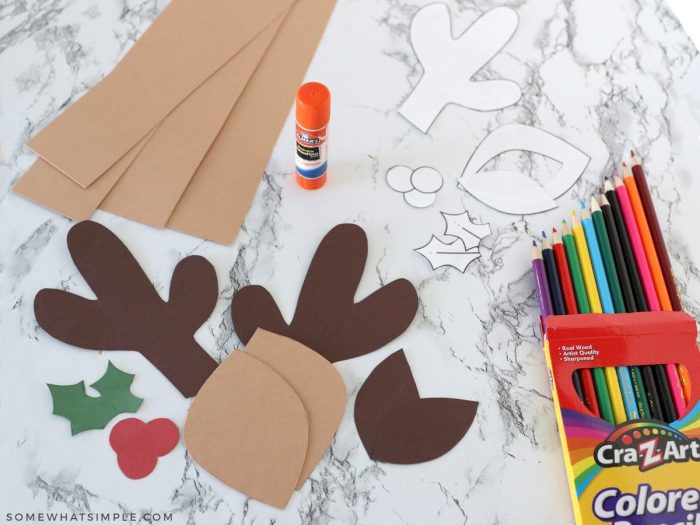 DIRECTIONS –
Download, print and cut out the reindeer headband and holly template.
Color each piece of the printed template, or use them to trace each piece onto cardstock, then cut out the cardstock.
Glue the reindeer parts onto the long pieces of construction paper.
Measure the length of the headband on your child's head and staple the strips of paper where it fits best. Trim any access strip of paper.
…and you're done!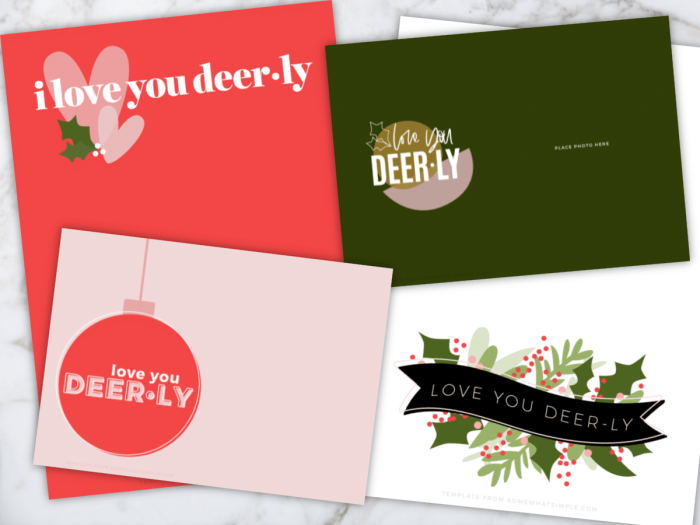 Free Printable Christmas Cards for Kids
MATERIALS –
reindeer headband
Christmas card templates (download below)
red lipstick or washable red paint
camera
glue or tape
marker
printer (you can use your home computer or you can send the PDF to your favorite print shop)
DIRECTIONS –
Place the reindeer headband on your child's head.

Paint their nose red and have them pose for a few pictures.

Print the card template of your choice and a picture of your child dressed as a reindeer.
Place the reindeer picture on top of the card where it says "Place Picture Here" and secure it with glue or tape.
Have your child write a greeting or their name on the front or back.
Send off your printed card to grandpa and grandma!
…and you're done!
Free Printable Card + Headband Templates
Enter your name and email address below to sign up for our weekly newsletters for immediate access to all of the cards and headband free printable templates.
Have a Merry Christmas and Happy Holidays!