Printable Thank You Cards
Printable thank you cards are the perfect way to send a kind word of appreciation in a flash!
Here are a few more printable cards we think you'll love – Thanks For Helping Me Grow Tags, Candy Birthday Cards, and Gift Card Envelope.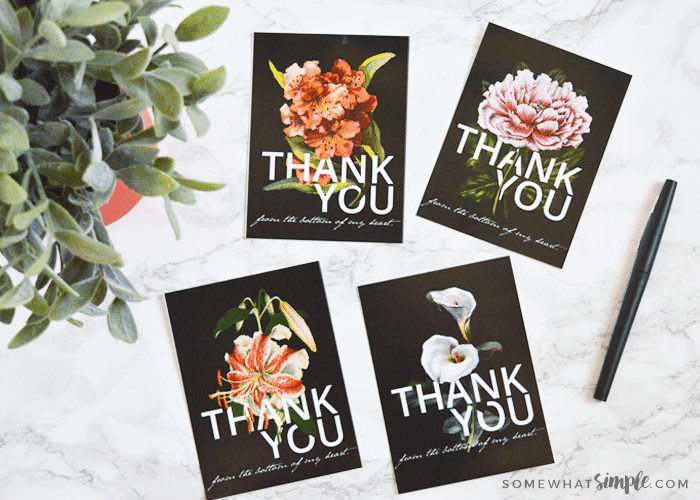 When I was going through my multiple surgeries, I was floored by how many people stepped up and helped out me and my family. And it was more than a few meals – it was taking my children so I could rest, it was driving me to doctor appointments (2 hrs one way!), sending flowers and gift baskets, treats, and get-well cards. It was heart attacking my door with paper hearts and get well wishes. The list is incredibly long.
I knew wanted to design a beautiful + thoughtful thank you card, but I wanted to fit a bunch on a page, since I needed so many! Then the thought hit me – make a postcard! Postage is cheaper, and printing would be cheaper with 4 to a page instead of 2.
That's how these beautiful thank you postcards came to be!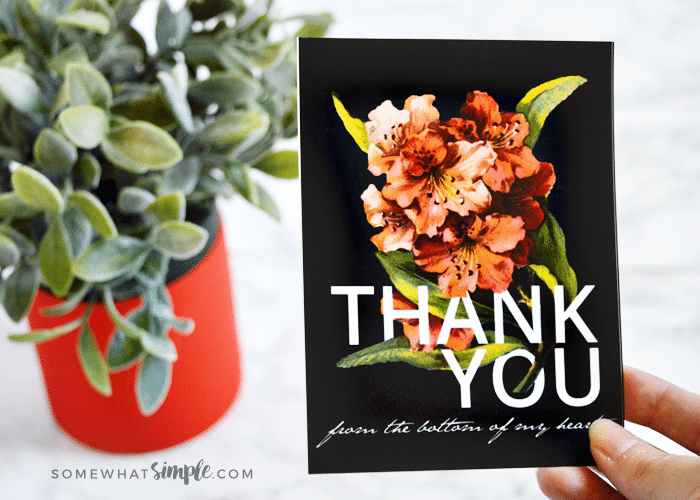 I printed out a bunch to have on hand whenever I needed. Mine usually accompanied dishes that I was returning to friends, or I'd hand it to them directly when they came to offer a service.
I love how beautiful these thank you cards are – there's something about florals on a dark background that make my heart flutter.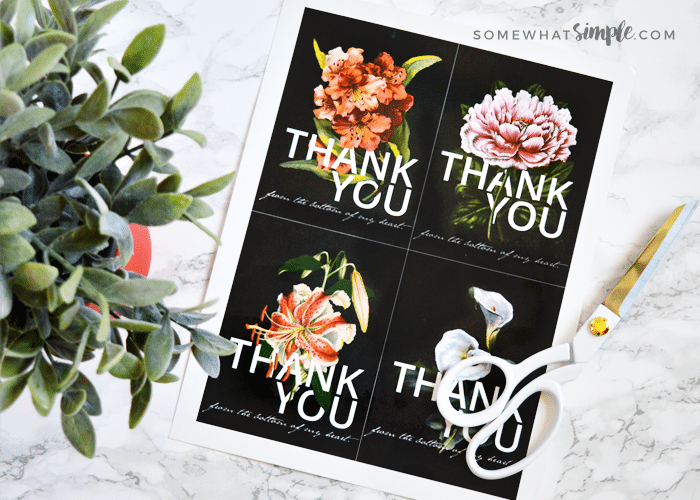 Floral Printable Thank You Cards
SUPPLIES –
floral postcards (download below)
scissors or paper cutter
pen
postcard stamps (if mailing out)
DIRECTIONS –
First, print off as many postcards as you need.
Cut out, and write your note.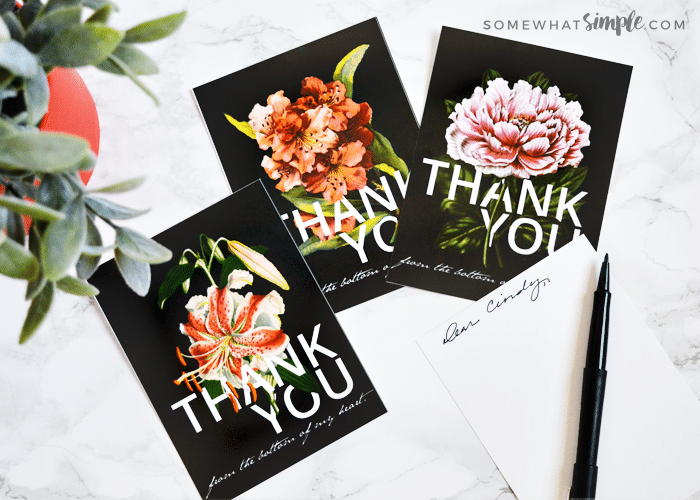 Note that if you're sending it as a postcard, you need to draw a line down the middle. Then write your note on the left half, and the name and address of the recipient on the right.
Do you send out thank you cards? I feel like it's a tradition that's fading away, so we're making it easy (and beautiful) to start that tradition back up in families everywhere!