Fourth of July Bike Parade Invitation
Plan a 4th of July bike parade that's sure to become a neighborhood tradition! Download our Bike Parade Invitations and let's get this party started!
Here are a few more 4th of July ideas we think you'll love – 4th of July Banner, Patriotic Dipped Ice Cream Cones, and 4th of July Party Printables.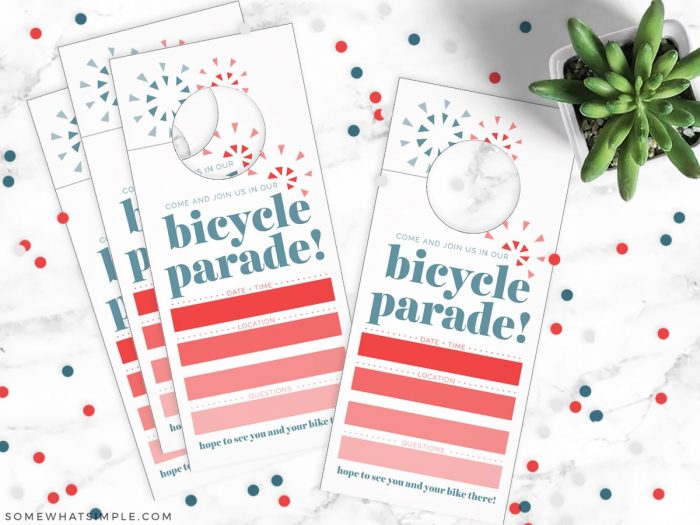 All growing up, summer was my favorite time of year! No school, days at the pool, late-night get-togethers, AND the annual neighborhood bike parade!
There was nothing more exciting as a kid than being able to ride your bike around the neighborhood all decked out with paper streamers and cardboard noisemakers. The parents loved it too! While the kids raced around the neighborhood, they relaxed on the sidelines, cold drinks in hand!
This is an event I wanted my own kids to take part in, so a few years ago I set out to organize one for our neighborhood. I made a simple Bike Parade Invitation to pass out to all the neighbors and before you knew it, a tradition was born!
Want to plan your own bike parade? Here's how –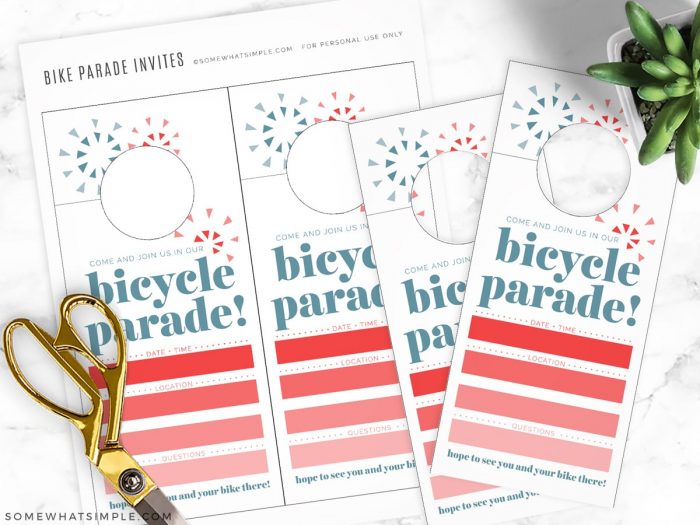 How to Plan a Bike Parade
MATERIALS NEEDED:
invitations (download below)
decorations- streamers, flags, balloons, props etc.
small candies to toss to parade watchers, optional
DIRECTIONS:
A week or two before the 4th of July, pass out the invitations to all your neighbors. The invites we made are door hangers

so you could pass them out in the neighborhood even if people aren't home.

The day of the parade, set up a decoration station for people to decorate their bikes.

Once everyone is ready to go, have an adult or an older child lead the pack on your own "parade route" and have fun making memories!
Printable Bike Parade Invitations
I hope you have fun this Fourth of July and host a bike parade of your own!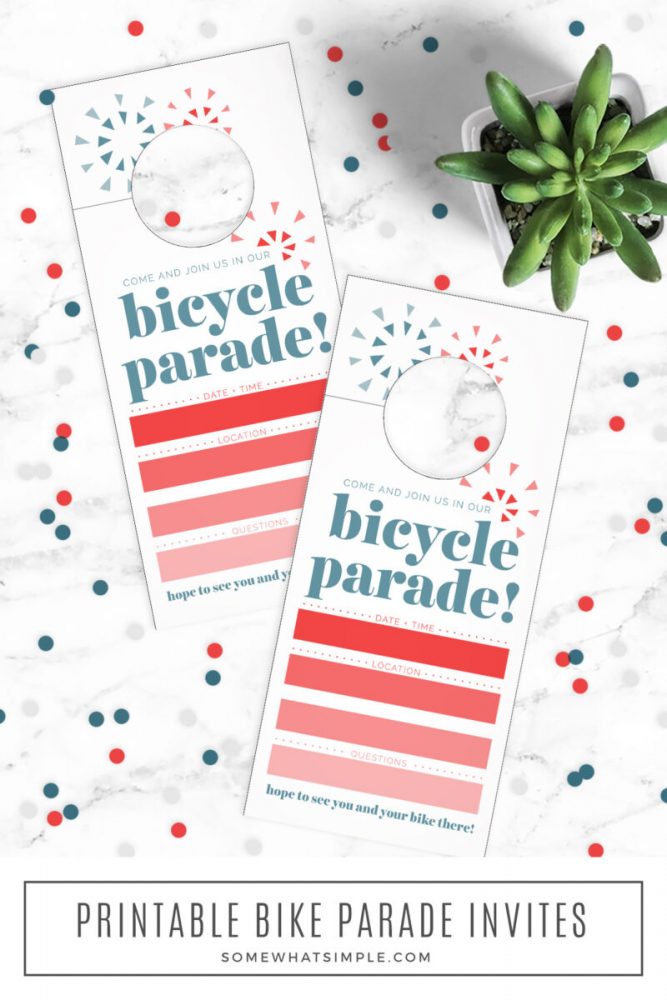 This post originally posted on SomewhatSimple.com in 2015. It was updated with new printables in 2021.

ABOUT THE AUTHOR: Amy is the creative designer from Amy's Stationery Shoppe. She was a member of the Somewhat Simple Creative Team in 2015.