Nothing says, "Happy Halloween" like our monster cookie kits! Give the gift of easy holiday baking with our delicious cookie mix in a jar!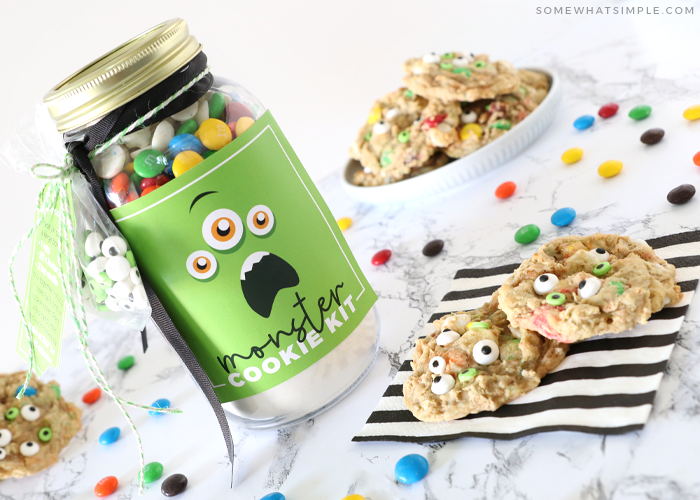 Halloween is looking a little weird this year with the COVID-19 pandemic. Is trick-or-treating cancelled? Are class Halloween parties still happening? Who knows!? But just because there is still much to be determined doesn't mean you have to skip out on all the festive TREATS completely!
We created these fun monster mason jar labels to spread some "spooky spirit" to neighbors and friends! Simply fill the jar with the dry ingredients to our Monster Cookies, add a label and some ribbon and you're good to go!
Here's how to put it all together –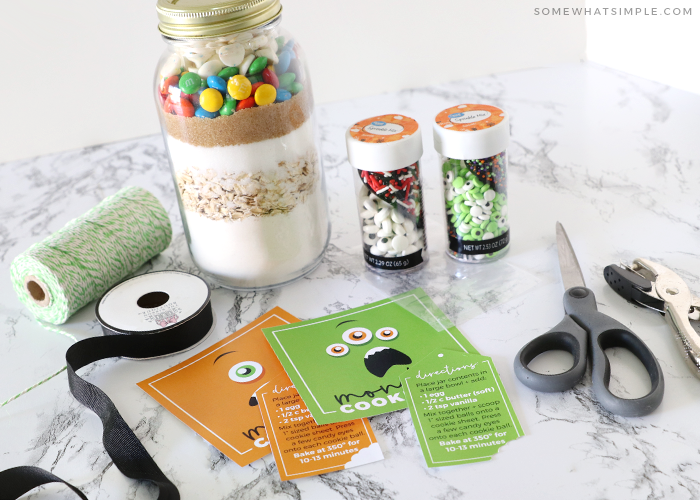 Cookie Mix in a Jar Gift Idea
INGREDIENTS / SUPPLIES –
quart-sized Mason jar
dry ingredients for Monster Cookies
candy eyeballs + halloween sprinkles
small plastic baggie
hole punch
twine
monster printable (download below)
scissors
tape
ribbon
DIRECTIONS –
Start by putting your dry cookie mix in a jar. Be sure to pack down each layer really tight!
Add M&Ms and chocolate chips to the top. (Do not put in the sprinkles or candy eyes!)
Put the lid on your Mason jar and secure it tightly.
Place Halloween sprinkles and candy eyes in a clear plastic bag, then attach the bag to the jar with some ribbon or twine.
Download, print and cut out the monster label and recipe tag.
Attach the monster label to the front of the jar with some tape.
Punch a small hole in the corner of the recipe tag and loop some ribbon through it. Tie it around the jar to secure.
…and that's it!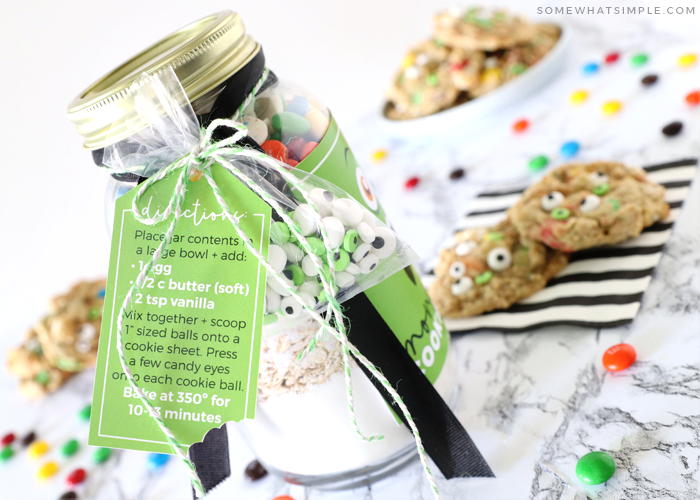 Ready to make your own???
Download our free printables below and get started! We have a green and orange option, so pick your favorite or use them both! (They are both darling, aren't they?!)