You've Been Booed – Free Printables
Spread some holiday cheer this Halloween with our sweet and simple You've Been Booed printables!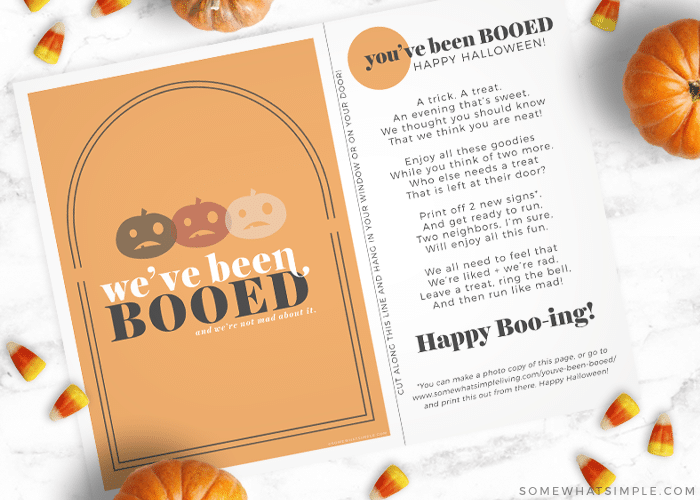 You're probably no stranger to the fun Halloween activity "We've Been Booed"- this idea seems to gain momentum and popularity each and every year. If your neighborhood hasn't been hit by this Phantom Ghost yet, you and your family should definitely start the tradition!
What is Halloween Boo-ing?
Also known as "Ghosting", being Booed or Boo'd is a fun tradition that gets the whole neighborhood involved! Here's how –
Simply put together a bag/basket of Halloween treats along with our free "You've Been Booed" printable, then deliver it anonymously to your neighbor.
Directions are given to the recipient to place the poem in their window so they aren't booed again, and then they pick 2 neighbors to be their secret recipients of more Halloween goodies!

Before long, your entire neighborhood will be hit by the phantom ghost!
What to Give Your Neighbors –
You can go as simple as you'd like! Here are some favorite ideas –
Halloween Candy
Glow sticks
Store-Bought Treats
You've Been Boo'ed Printables
Ready to get started spreading some Halloween cheer around your neighborhood?! Simply enter your name and email address below for immediate access to our free printables –
* Please remember, all of our free printables on Somewhat Simple Living are for personal use only. This doesn't mean we don't want you to share them with your friends or family – we're flattered when you do that! It just means we don't grant permission for mass-producing these printables, sharing the file, claiming the artwork as your own, or selling the product -physically or digitally. Thanks for understanding!
More Halloween PrintAbles
We hope you guys have a fun (and safe!) Halloween! Cheers!