Halloween Treat Bags – Bugs and Kisses
Bugs and Kisses Halloween Treat Bags are spooky, cute, and so easy to put together! They're perfect party favors for your Halloween party or to give out to trick or treaters.
Plan the perfect Halloween party with some of our favorite Halloween printables – Halloween Juice Box Covers, Spooky Printable Lollipop Cards, and Trick or Treat Printables.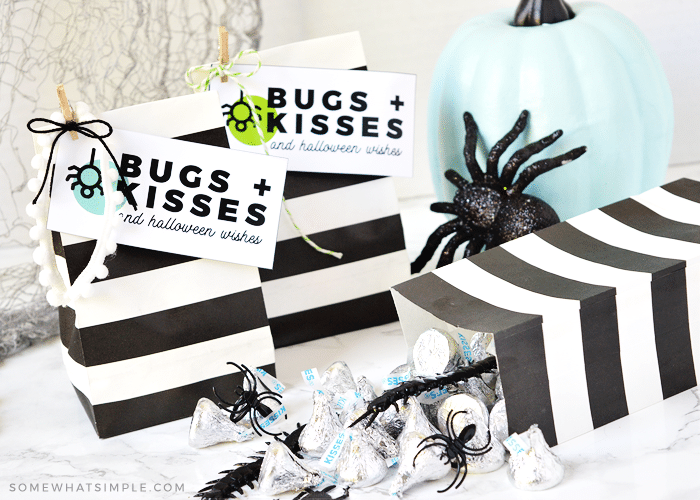 Easy Halloween Treat Bags
Looking for something cute and simple to give to neighbors and friends this Halloween? Maybe you need a fun treat for your kid's classroom? We've got you covered….. and you can thank us later! We made these Bugs and Kisses Halloween treat bags last year and my kids have already asked if we're doing them again- they LOVED this idea, and so did their friends! (For reals, I must've heard: "BUGS and kisses- get it? Like HUGS and kisses" a hundred times!")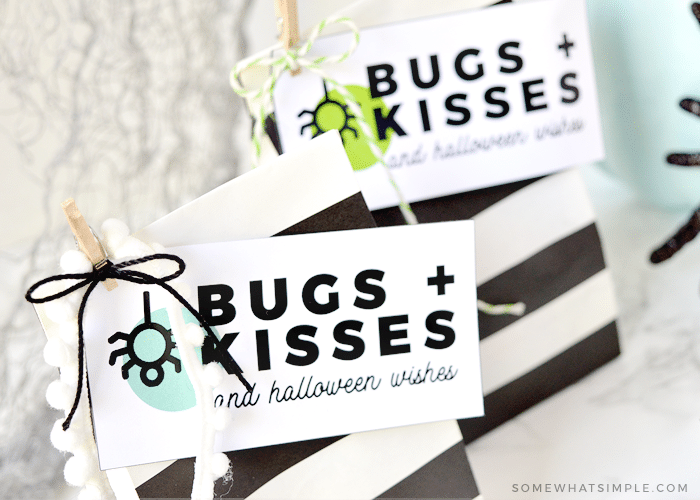 How to Make Bugs and Kisses
Want to make your own? You will need just a few items items and about 2 minutes of your time! Ready? Let's get started –
Print – Download our free bugs and kisses printable below.
Stuff – Fill each of your gift bags with Hershey's kisses, plastic bugs or any of your other favorite Halloween items.
Attach – Cut out the darling gift tags and attach them to the bags with ribbon, tape or anything else you'd like.
Give – Hand these out at the end of your Halloween Party or other event.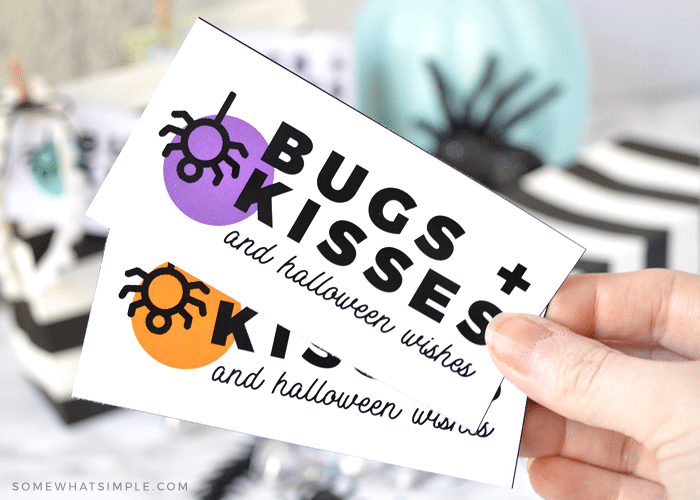 More Fun Halloween Ideas
Bugs & Kisses Printable
I think these are just spooky enough without being gross this Halloween! What do you think? Ready to make your own Bugs and Kisses Halloween Treat Bags? Enter your email and we'll send you the printable tags right away. Tag us on social media after you make these so we can see all of the cute ideas you came up with to put in your bags. Happy Halloween!