Are We There Yet? Road Trip Game
Keep the whole family entertained on your next road trip with this simple Road Trip Game! Download, print, and get ready for some FUN!
Here are a few more Road Trip Ideas we think you'll love – Road Trips Snack Boxes, Road Trip Travel Tray, and Road Trip Printable Activities.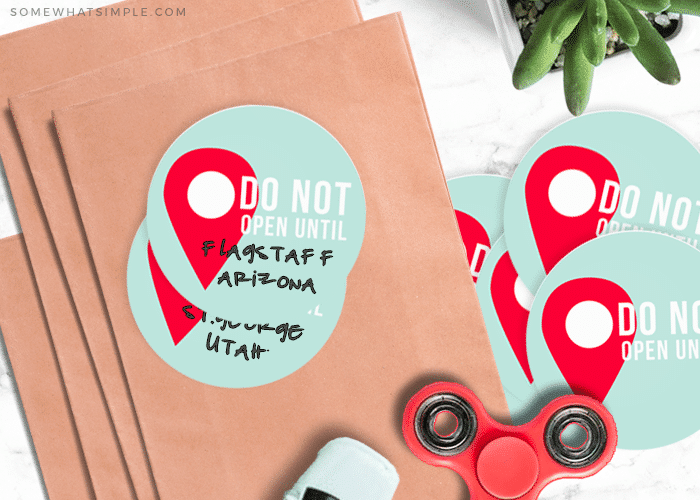 Road trips are a great way to create lasting memories with your family, and they're definitely an economical way to travel! But sometimes road trips can be long and boring, and when you have bored kids stuck in the car, it can also be extremely frustrating!
As a family of 7, we've learned a thing or two about road trip entertainment, and we have a few tricks up our sleeves that help keep the boredom at bay! In addition to watching movies and playing games on their tablets, our kids LOVE the following road trip game. It's easy and fun and helps pass the time. Here is how the game works –
Road Trip Game for Kids
YOU WILL NEED –
small goody bags, approximately 1 for each hour in the car

treats and prizes – small toys and candies, coloring books, tablets, DVDs, etc.
printable road trip tags (download below)
pen
tape
scissors
DIRECTIONS –
Before you leave for your trip, download and print the road trip tags and then cut them out.
Pick several different landmarks along the way to use as "checkpoints" where you will pass out a bag of goodies. These checkpoints can be cities, rest stops, state lines, monuments, National Parks, etc. Write the name of each checkpoint onto a printable tag.
Fill each goody bag with a treat or toy, then tape a tag to the front of each bag. If there isn't a lot to see along the way, or there aren't any obvious checkpoints, you can write in different times on each tag – 1pm, 3:30, 5:15, etc.
Pack the bags in the car where they are easily accessible.
When you reach your checkpoint on your trip, hand out a bag and let the kids go nuts over their special prize.
Vacation Printables
Enter your name and email address in the form below for immediate access to this printable –