Keep in touch and brighten their day with our printable Thinking of You Cards. A sweet and simple way to send love to your family or friends!
Here are a few more printable cards we think you'll love – Monogram Note Card, Fruity Pun Cards, Playdate Invite Cards, and Father-In-Law Cards.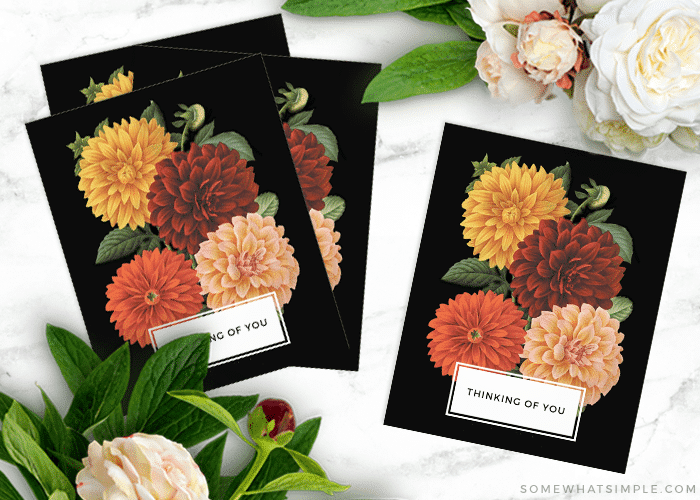 A Story about Kindness
Several years ago I heard a friend at church tell a story that I think about quite often. She said she was leaving the grocery store one day when she had a distinct impression to purchase a bouquet of some dahlia flowers for a lady that had just moved into her neighborhood. She didn't know this lady at all, but the impression was so strong, and the flowers were gorgeous, so she purchased the flowers and made her way to the lady's house.
As soon as the neighbor answered her door, she looked at the flowers and started to cry. She then shared with my friend that on that day one year before, her little girl had passed away and her first name was Dahlia. She said she was really struggling and had prayed that morning to feel like she wasn't forgotten or alone. This simple act of service from a neighbor was a comforting answer to her prayers.
I've thought about this story so many times over the years and how special that simple bouquet must've been to this lady. My friend could have completely disregarded that thought in her haste to finish her grocery shopping and get on with her day, but what an awesome feeling it was for both of the ladies involved.
I often question thoughts that come to my mind, wondering if they were promptings, paranoia, or random thoughts that mean nothing. (Anyone else?) But so far, I've never regretted acting on a kind prompting, and I don't want to risk missing my own "dahlia experience".
Thinking of You Flower Cards
Print a few of our "thinking of you" cards to keep on hand when you need them. Then, the next time your co-worker or friend is having a bad day, write a personal message on the back and leave it for them to find. A simple act of kindness that's sure to brighten someone's day!