Trick Or Treat Yo' Self Halloween Gifts
This Trick Or Treat Yo' Self Relaxation Gift Basket Is the perfect pick-me-up this Halloween season! Whether You leave it on their doorstep or send it in the mail, these Halloween Gifts are so easy to put together!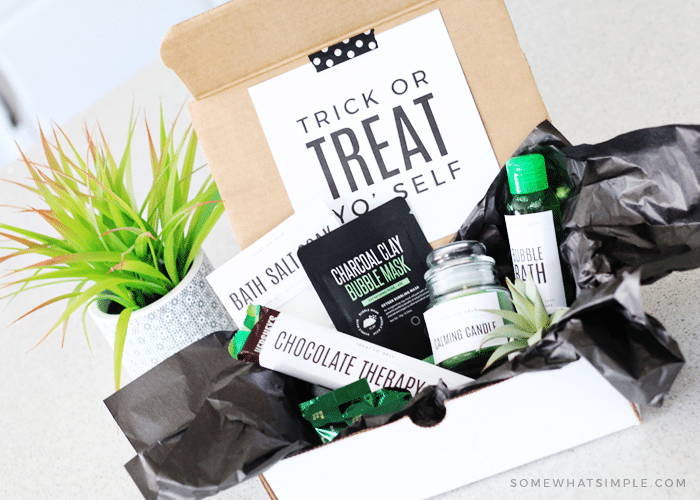 Whether you've got a friend who could use a little pampering, or you're planning a girl's night in, this little relaxation gift basket is perfect! Because who doesn't need a little chocolate therapy in their lives… #AmIRight?

Trick Or Treat Yo' Self Relaxation Gift Basket
These simple Halloween Gifts make great individual pick-me-ups, or party favors for that spa night you've got planned with the ladies! Have fun putting them together!
SUPPLIES –
Trick or treat yo'self printable pack (download below)
Scissors
Tape + Glue
Bath Salts (we bought a large bag and divided it into smaller ones since we are sending more than 1 out)
Bubble Bath (again, we bought a large bottle and some green shampoo travel containers to put it in)
Scented Candle
Chocolate Bar
Other Spa Items (i.e. chocolate squares, small plants, face mask, chapstick, etc.)
DIRECTIONS –
First, pick out a color scheme you'd like to use- this helps to make decisions at the store easier. we went with green, but you could do purple, orange, blue, etc.
Then print out our printable kit. (download below)
Cut out the labels, and attach them to your items using tape or glue
Fill out the notecard, then pack it up and give it to someone who could use a little spa treatment!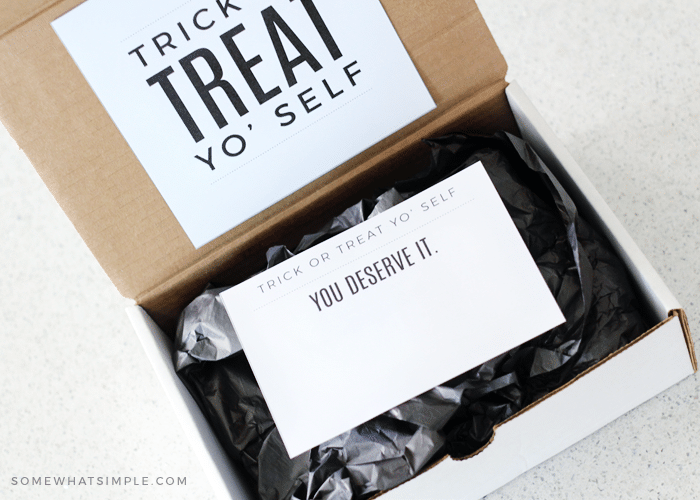 We love how simple and clean the design is, so it works with any items or colors you choose to put in it! And it makes a great bulk gift idea without breaking the bank!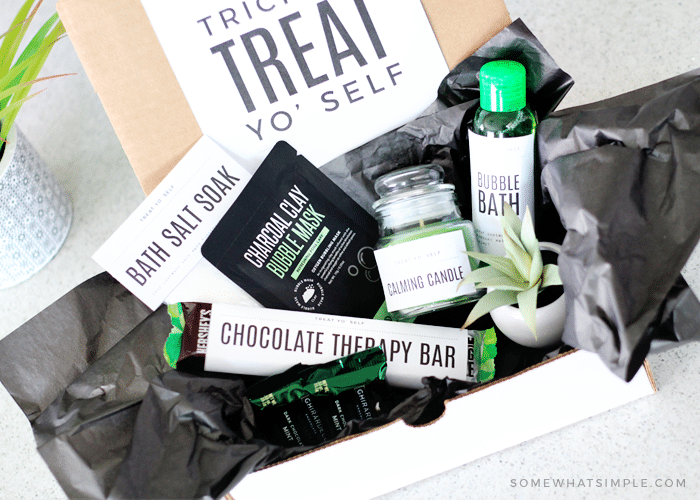 Ready to create your own Trick Or Treat Yo' Self Spa Gifts?
Enter your name and email address below for immediate access to the printable.