Decorate your home for fall with this simple acorn craft. Glitter Acorns are easy to make and will look beautiful with your seasonal decor.
Here are a few more fall craft projects we think your kids will enjoy – DIY Fall Centerpiece, Animal Leaf Headbands, Painted Leaf Garland.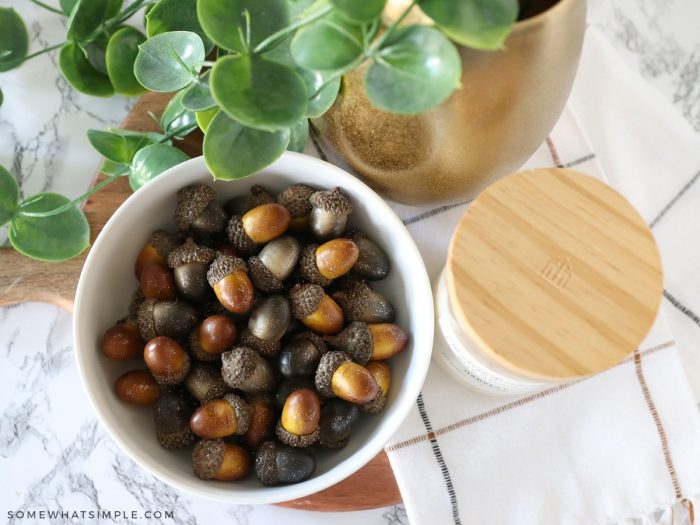 My Mom used to make BEAUTIFUL pine cone wreaths! I used to think she was a little crazy when she'd pull the car over and say, "Everyone out, help me gather these pinecones!" anytime we'd pass a pine tree! I guess it's true when they say you become your mother because I am now that crazy lady.
On my way into the doctor's office one day, I noticed HUNDREDS of big beautiful acorns under some trees. I shamelessly asked the nurse for a bag to collect them and then tried to ignore the strange stares I was getting as I grabbed handfuls of acorns and shoved them into my bag. I would have grabbed more, but my bag was starting to spill over! Here is my loot: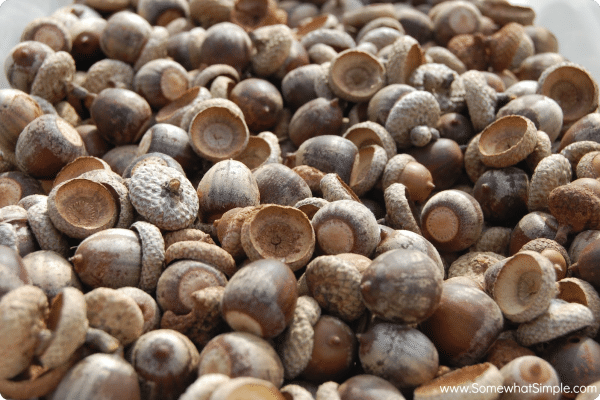 My plan was to do an easy craft and paint them with a thin layer of glitter, glue the caps back on and use them for vase fillers. I ended up with soooo many acorns that I was able to use them in a few places around my home. Take a look at the fun way I used them in this pretty fall tablescape –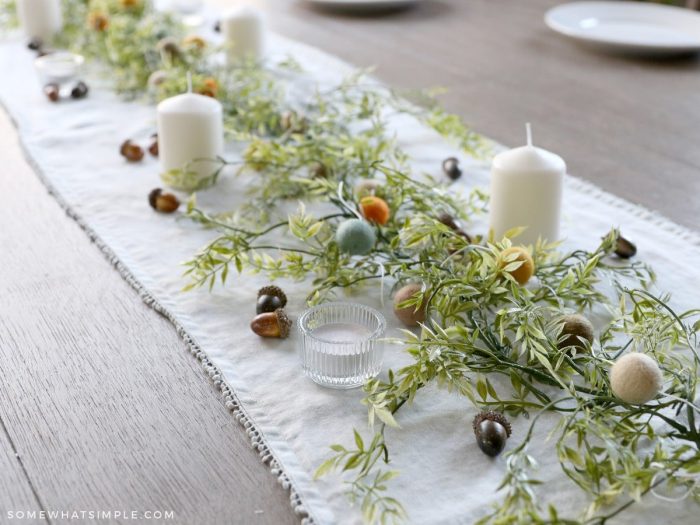 Aren't the colors of fall so pretty? I love using natural materials in my art projects, and I'm so happy with the way they turned out! I was originally thinking they would be good for Thanksgiving, but I think all glammed up, they'll work for Christmas too!
These glitter acorns are not only a great fall decor, they are also SUPER easy to make! Here's how: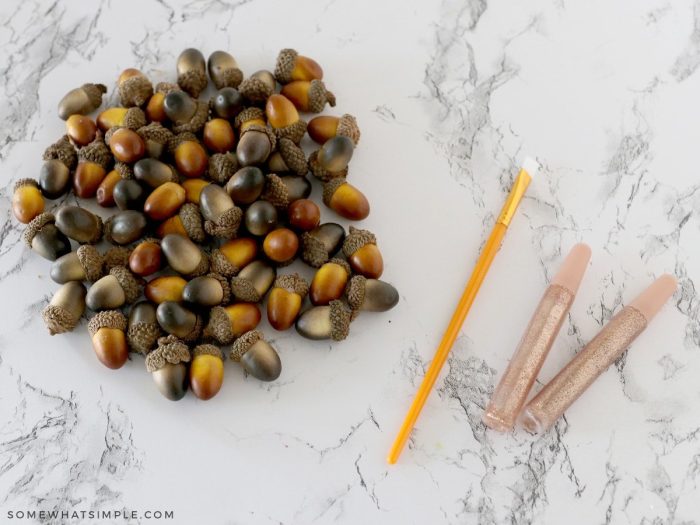 How to Make Glitter Acorns
YOU WILL NEED –
Acorns – If you don't live near any oak trees that drop them, you can buy acorns HERE on Amazon.
Paint Brush
Paper Plate – or a surface to paint on when you can let your acorns dry.
Felt Ball Garland – For the tablescape.
Hot Glue Gun – If you need to glue the acorn cap back on any loose ones.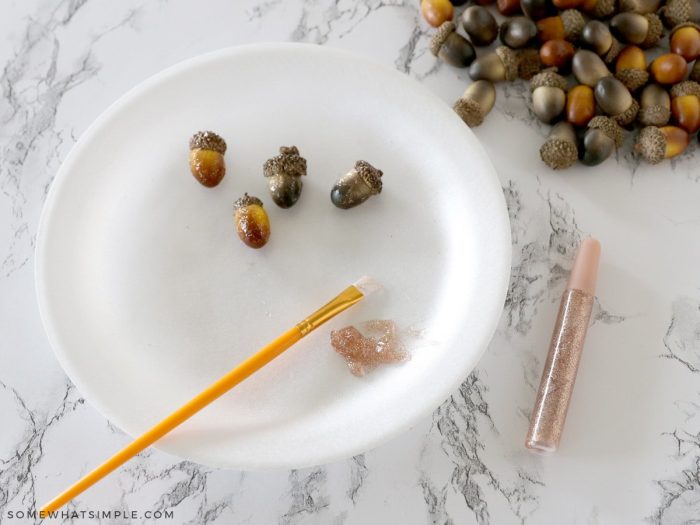 ACORN CRAFT INSTRUCTIONS –
Paint a light coat of glitter over each acorn and let it dry.
Add as many coats of glitter as you'd like to get the sparkle you want.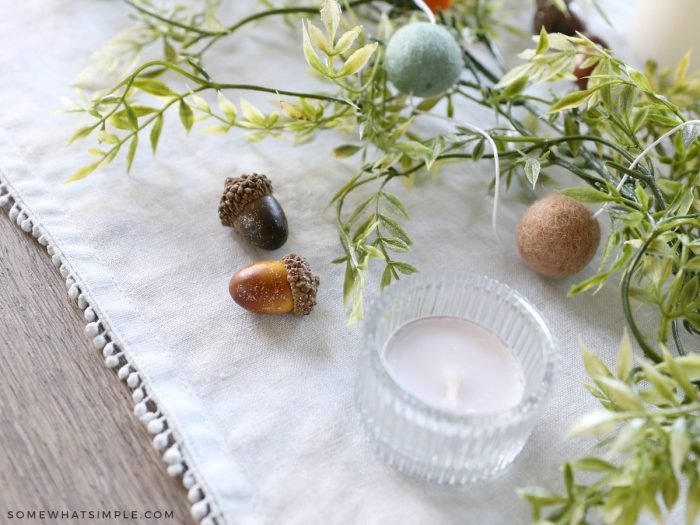 3. Arrange these acorns around your home in your seasonal decor.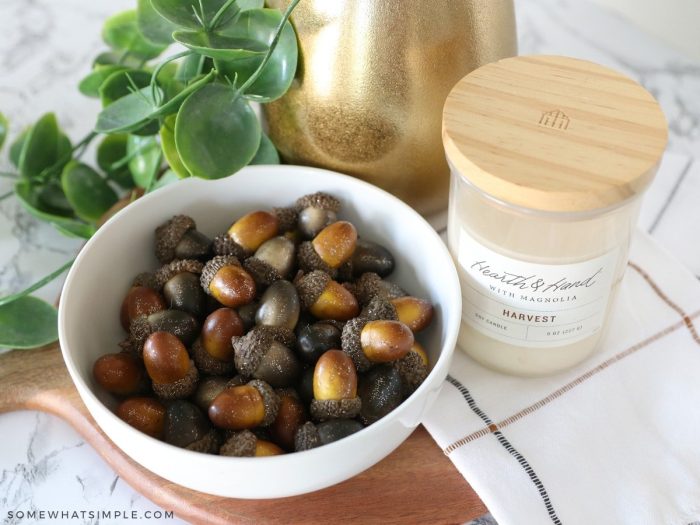 There are so many ways you can use these acorns –
Use them as a vase filler
Glue them to yarn to make a garland and hang them on your mantle
Make Acorn Ornaments for your Christmas tree
Make an Acorn Wreath
Arrange them on a table runner, around some candles in your tablescape
Aren't they so pretty?! I loved them so much, I used this acorn craft for inspiration in THIS tablescape too!