Printable Birthday Party Favors
Printable Birthday Party Favors that are simple to put together and only cost about $1 each! They're colorful, fun, and perfect for all ages!
Here are a few more birthday party ideas we think you'll enjoy – Candy Birthday Card, Fiesta Invitations, and Printable Birthday Gift Tags.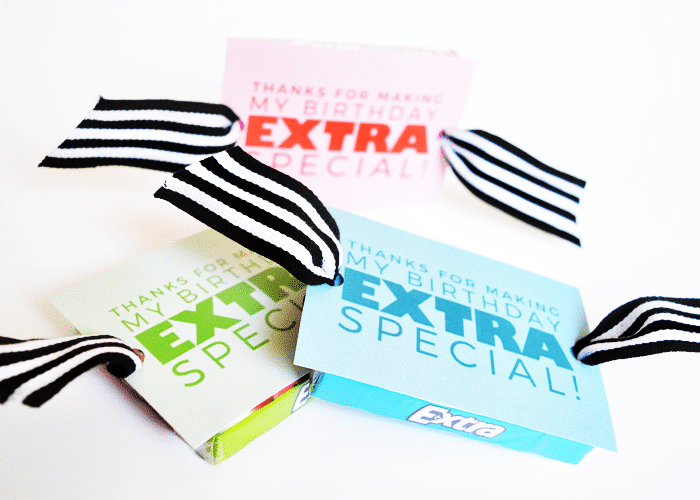 Easy Birthday Party Favors
I wanted to have a party favor of some sort for Ethan's friends to take home from his birthday party, but Ethan insisted that 9-year-olds are a little past the age of a goody bag with bubbles and plastic parachute men.
He is probably right.
Instead, we came up with this bubble gum idea and it was a hit! The boys loved getting their own packs of gum, and I loved that these only cost me about $1 each! It is a win-win!
Here is how to make them: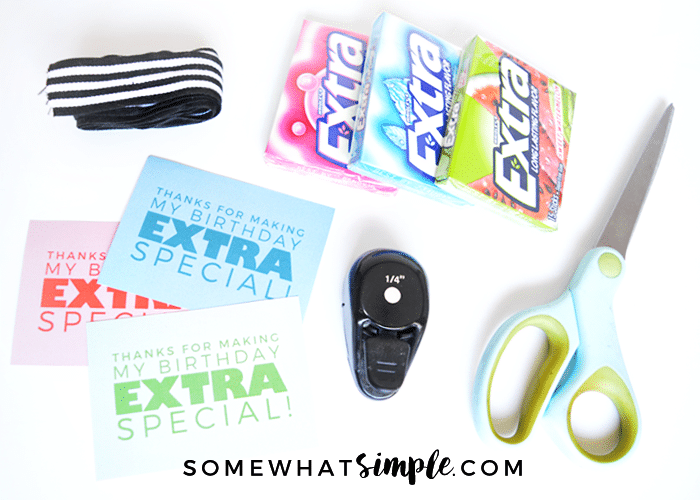 MATERIALS NEEDED:
1 pack of Extra gum
tape (I used double-sided)
scissors
cardstock for printable (free download below)
ribbon
hole punch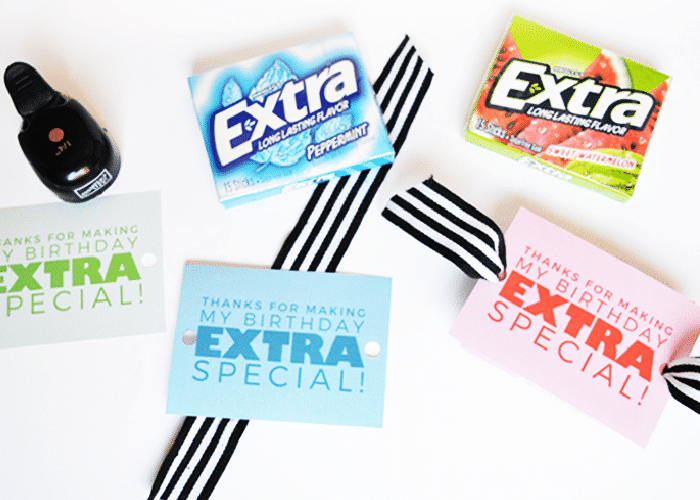 DIRECTIONS:
Print and cut out your printable & punch a hole on each side of the cardstock.
Place the printable on the front of the pack of gum and put the ribbon behind it.
Lace the ribbon through the holes of the cardstock.
Secure the ribbon and cardstock to the gum with some tape.
AND THAT IS IT!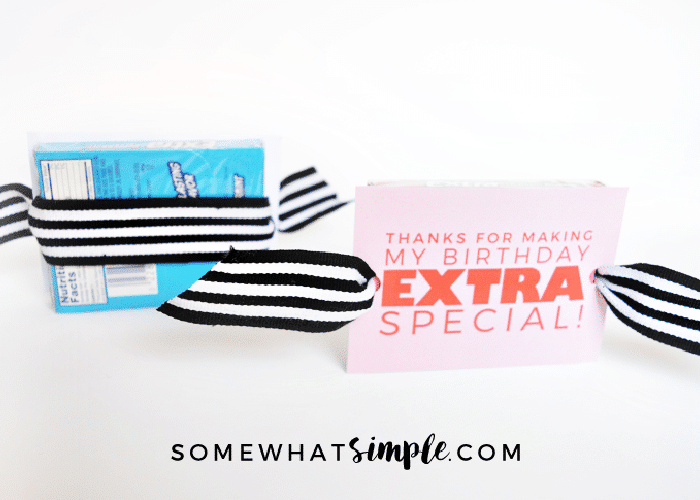 A party favor that is easy, affordable, and cute – it doesn't get any better than that!
Printable Download
This printable pack comes with a bunch of colors! If you want to print only certain colors to match your party, download the file, then CLICK HERE for simple directions.
Just a reminder, this printable and all other printables featured on Somewhat Simple are for personal use only. Please do not mass-produce them, sell them or claim them to be your own. If you need special permissions for this printable, please email us – we are super nice, I promise! Thanks for your continued support and understanding!
Have a great birthday party!