Chocolate Gift Tag Printable
Celebrate a special neighbor, teacher, or friend with this simple chocolate gift tag printable! It's a quick, inexpensive gift idea, perfect for all the chocolate lovers!
Need a few more simple gift ideas? Here are a few of our favorites – Otter Pop Gift + Printable, 10 Back to School Gifts for Teachers, Adults Only White Elephant Gift, Milk + Cookies Gift, and a Simple Wedding Gift.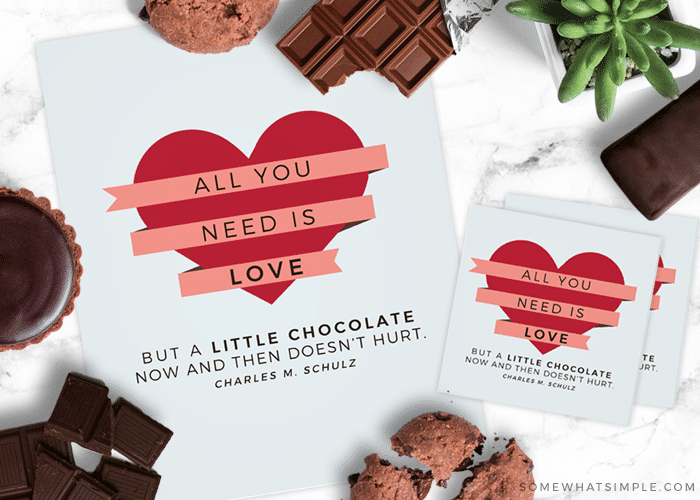 Chocolate doesn't fix evvvvverything, but it sure can help, right? So if you know of someone going through a hard time, or maybe they've just had a rough day, download our free chocolate gift tag printable, attach it to their favorite candy bar, and leave it on their desk or doorstep. This simple act of kindness attached to a delicious little treat is such a great, supportive pick-me-up!
Chocolate Treat Ideas
Attach the chocolate gift tag to any of the following chocolate treats –
Chocolate Gift Tag
Ready to download our chocolate gift tag? Enter your name and email address in the form below for immediate access.
Please remember – all of the printables on SomewhatSImple.com are for personal use only. Please do not mass-distribute them, sell them, or claim them as your own. (We see this ALL.THE.TIME.) If you have any questions about this or if you need special permission, please email us! (We don't bite!) steph@somewhatsimple.com
ENJOY!