Save the Chubby Unicorn Printables
These awesome retro Chubby Unicorn Printables are the perfect way to show family and friends your Chubby Unicorns Pride!
Here are a few more printables we think you'll get a good laugh at – In the Mood for Love, Funny Diet Quotes, and Funny Printable Memes.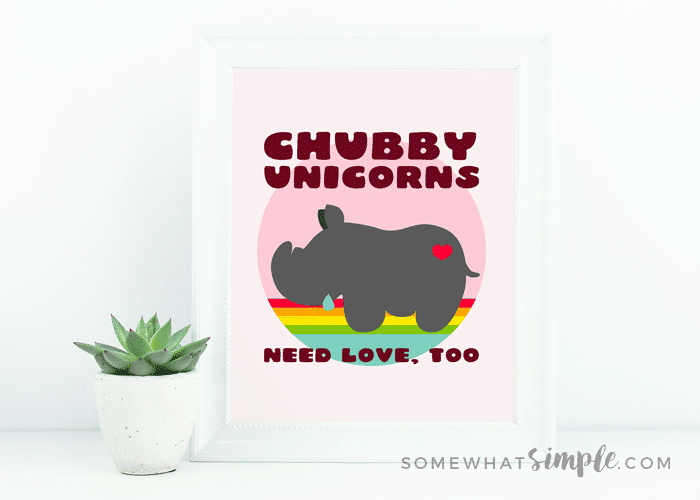 (Warning: Hard-Core Satire Ahead)
A little over a month ago I bought a shirt that said SAVE THE CHUBBY UNICORNS. It was perfection. And whenever I wear it, people stop me and tell me how proud they are that I'm doing my part to help. By wearing that shirt, I am showing those beloved creatures, and everyone I meet, that I care.
But not everyone has the ability to own a chubby unicorn t-shirt.
And that, my friends, is a tragedy.
So Somewhat Simple is here to help you! And, of course, the Unicorns.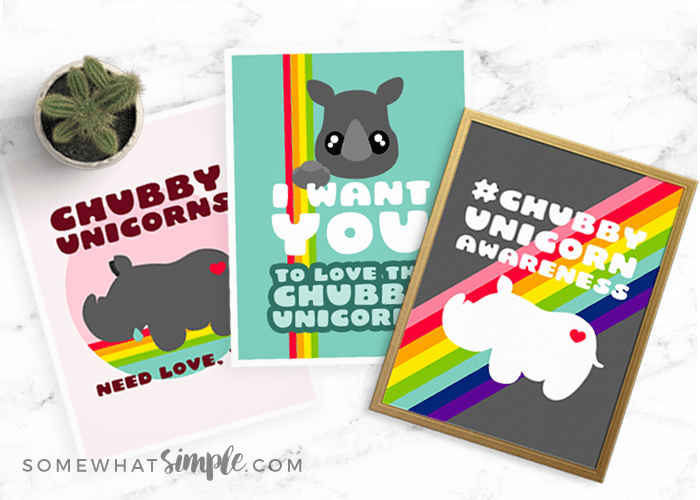 Chubby Unicorn Printables
I should warn you, displaying these printables will fill you with deep satisfaction and fulfillment that you may never have felt before. Such feelings are totally normal. You love them. There's nothing more magical than that.
SUPPLIES –
Chubby Unicorn Printables (download link below)
8×10 picture frame
Scissors (for any trimming you need to do to fit in the frame)
DIRECTIONS –
Print off one, two, or all three of our Printables.
Trim down if needed.
Place into your picture frame.
Step back and admire your contribution to the Chubby Unicorn with absolute pride.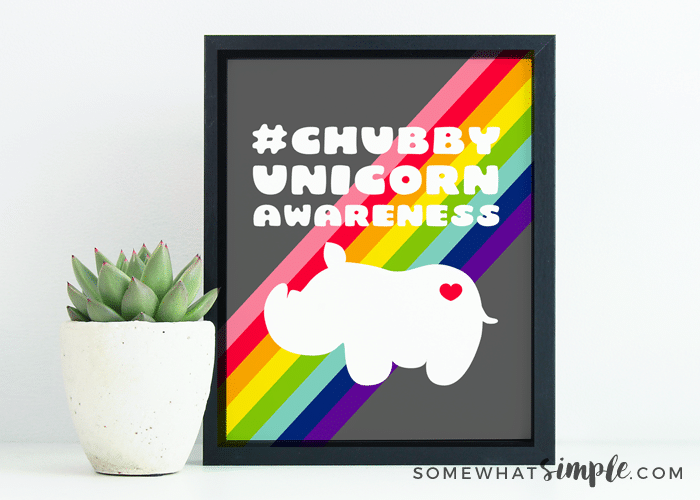 Much like bringing Chubby Unicorn Awareness to the world, this project will be one of the most important things you could ever do. Ask yourself: Am I doing my part to save these creatures? Could I be doing more?
The answer is simple. Did you print off and display all 3 of our unicorn printables, and then print off extras to gift to friends and family, and the PTA President? If you haven't, then the answer is no. You haven't done enough.
Now go stock up on frames so you, too, can feel the same warmth and joy of accomplishment that we do. Because displaying printables is the most powerful way to show love, and save these magical beasts.
Please note that this post is complete satire. We are 100% aware that Chubby Unicorns don't exist. In North America.