Easy Felt Christmas Ornaments
With a few simple supplies and 5 minutes of your time, you can create these easy felt ornaments! Grab the kids and get ready to deck the halls for Christmas!
Here are a few more handmade ornaments that are perfect for little hands to help you make – Popsicle Stick Ornaments, Melted Crayon Ornaments, and Snowman Keepsake Ornaments.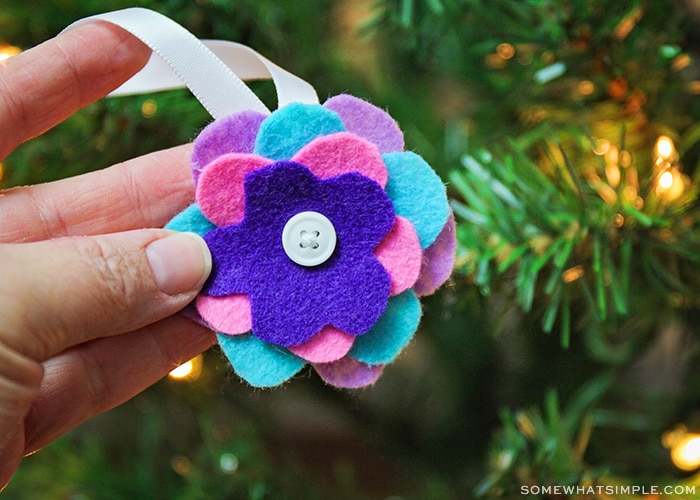 If you're like the millions of others who are knee-deep in decorating for Christmas, these easy felt ornaments are a fun project you can make today! They're really simple to make and can be adapted based on age and ability. My kids and I made these together last year and it was so much fun!
I'm going to show you two ways you can assemble these felt ornaments. The older kids used a needle and thread while the little kids went nuts with some white glue. Both methods worked well, so pick your favorite and let's get started!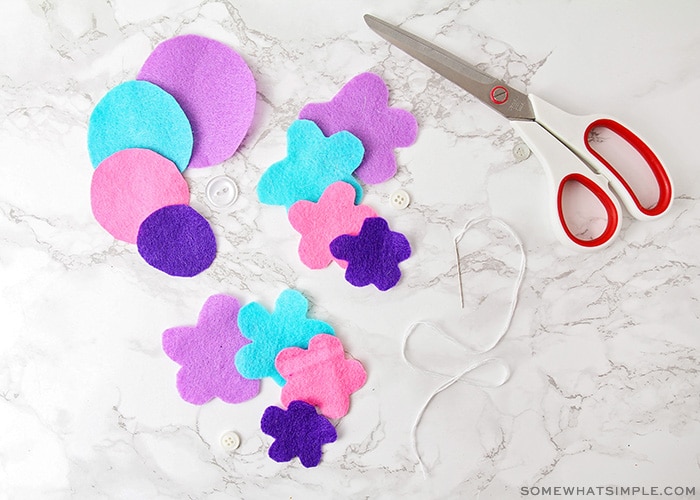 How to Make Felt Ornaments
Cut – Start by gathering multiple colors of felt fabric. We went a little non-traditional for ours because that's what I had in my scrap pile! Next, cut out varying pieces that are different shapes and sizes. My favorite are the circles, but my kids loved the flowers. The circles are not only easy to cut, I just love their whimsical, uneven look. You could also do hearts, stars, candy canes… really any shape you want!
Sewing Option – Stack a grouping of felt that's the same shape on top of each other. Then sew a button in the center using a needle and thread.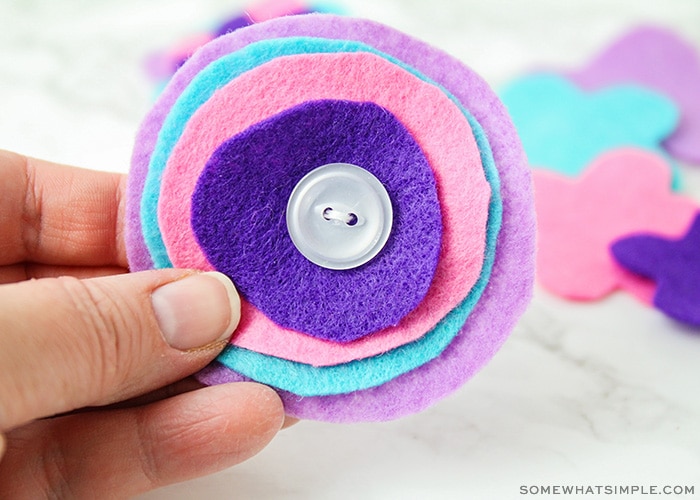 See, isn't the circle one so cute?!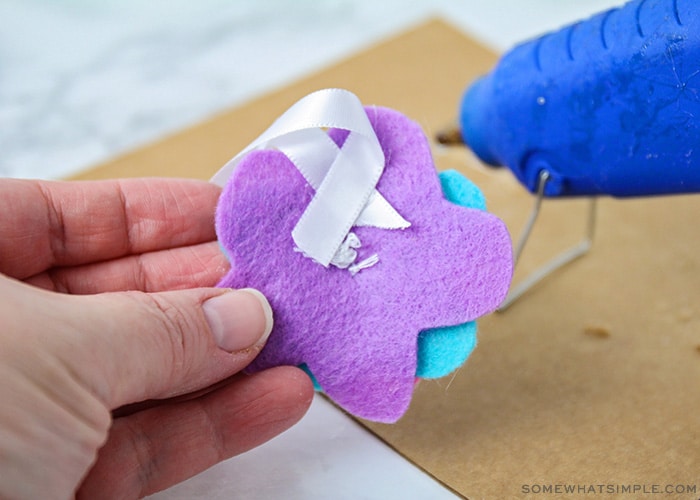 Glue It – Lastly, grab a small ribbon and glue it in place on the backside of the felt pieces so you can hang the ornament on the tree. Then you're all done! I love the variety of colors that are so bright and fun!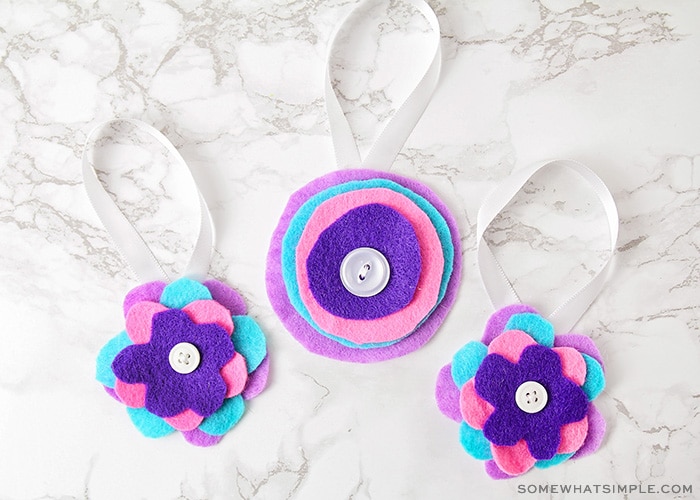 Gluing Option – If you want to use white glue instead of a needle and thread, start by cutting the shapes out like before. Then, as you glue them together, just be sure to let each layer dry completely before your felt ornaments on the tree.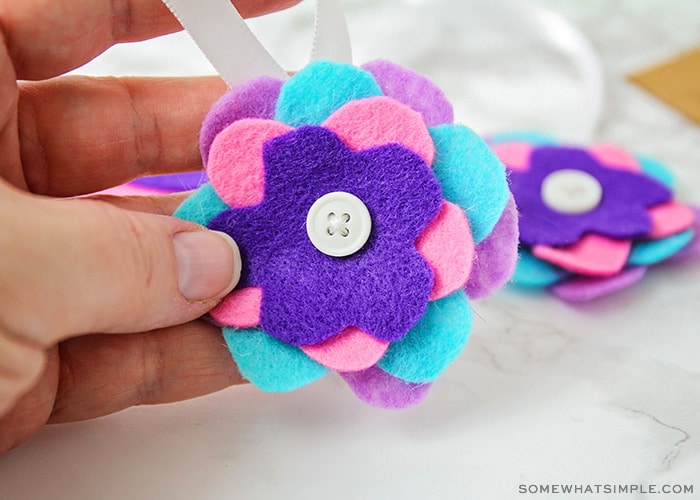 More Fun Christmas Crafts
Leave us a comment below and let us know which method you chose to make your felt ornaments. Don't forget to snap a picture and tag us on social media so we can see all of the adorable creations you made!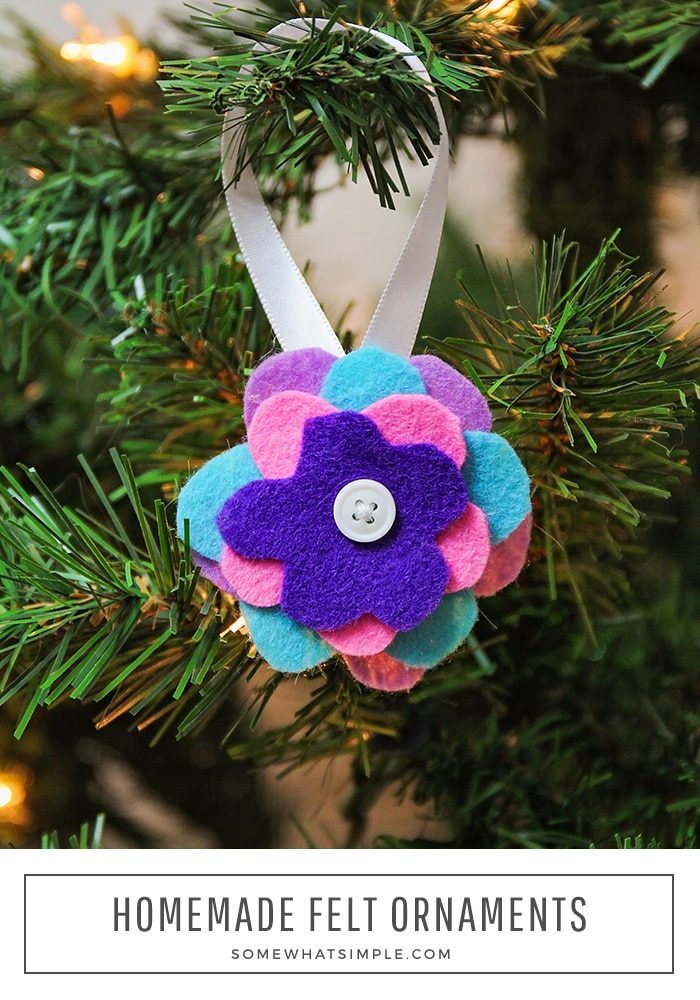 This post originally published on Somewhat Simple in November 2013