Olympic Themed Party Printables
Get the whole family into the spirit of the upcoming Olympic Games with our fun Olympic Themed Party Printables!
Here are a few more party printables we think you'll love – Favorite Things Party, Back to School Party, High School Reunion Party, Princess Party, and 4th of July Party.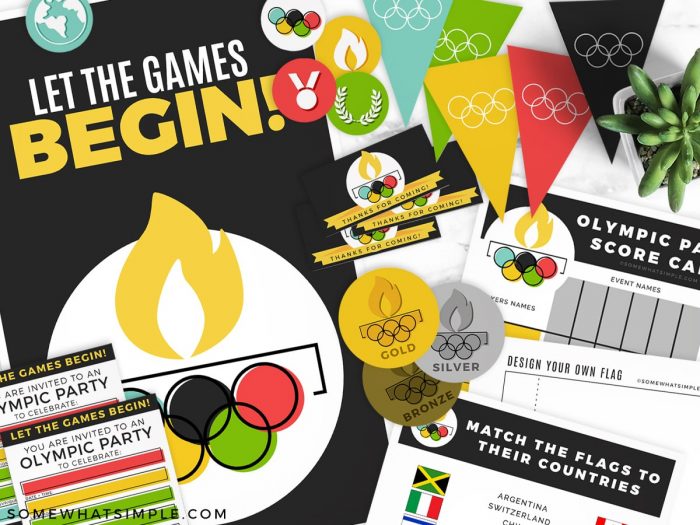 Olympics Activity Sheets
It's time to cheer for your country and give support to those athletes who have dedicated their lives to being the best of the best! We designed a whole pack of Olympic Themed Party Printables full of projects and games for the whole family!
Here is what's included –
Sign – Welcome your party guests with a festive sign and LET THE GAMES BEGIN!
Cupcake Toppers – Don't forget the treats! These Olympic Cupcake Toppers will add even more fun to your celebrations!
Flag Design – Draw or color your own country's flag, or make up a new flag for an imaginary land!
Flag Match Game – Sit down and watch the opening ceremonies with this Flag and Country Match Game. This is the perfect mix of education and fun that the whole family can enjoy! Can your little one match up the flag with their country? Great activity for learning the flags of the world.
Favor Tags – Attach these cute tags to the party favori of your choice to thak guests for coming to your shn-dig!
Invite – Make your celebrations "official" with a super special invite!
Scorecard – Host your own Olympic games and keep track of the scores!
Printable Medals – Make your own medals for the family competitions you have planned!
Banner – Fun, festive, and totally simple to make!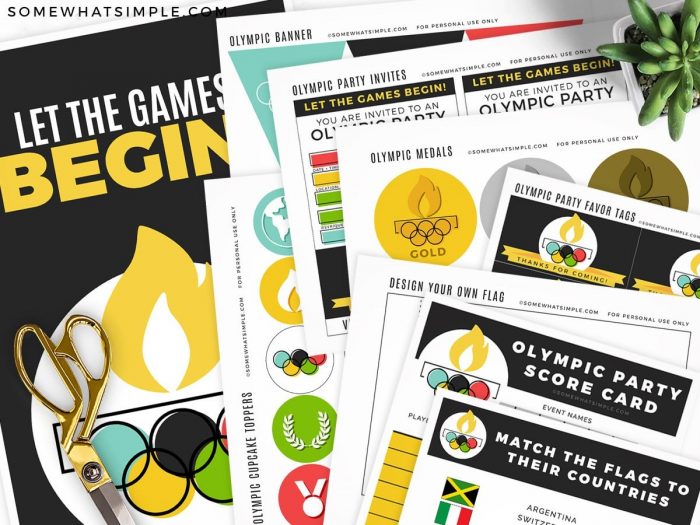 Aren't these printables so cute???
Olympic Party Printables – Download
Enter your name and email in the form below for immediate access to our Olympic Party Printables.
Please remember, our printables are for personal use only. Please do not sell them, edit them, or claim them to be your own. Thanks for understanding.
We hope you enjoy the fun Olympic games!