Free Printable Mother's Day Cards
Our Free Printable Mother's Day Cards can be as simple or as elaborate as you (or your budget) want it to be! Grab our printables, make a quick trip to the grocery store and you're good to go!
Here are a few more Mother's Day Gifts we think you'll love – Mother's Day Coupons, Live in the Moment Printable Quote, and Enjoying Motherhood Wall Hanging.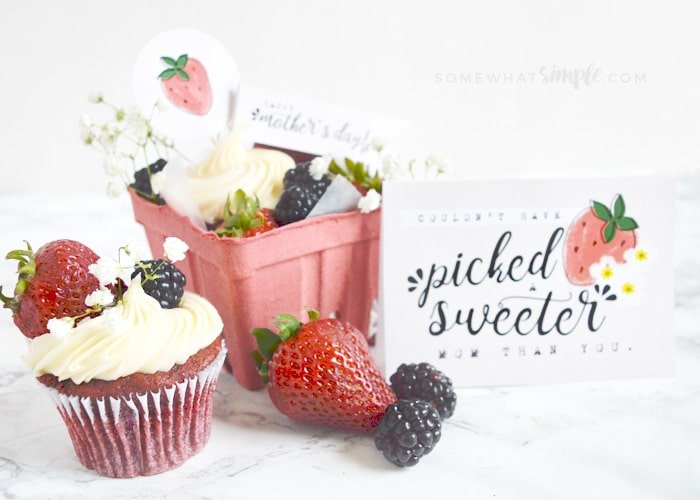 Printable Mother's Day Cards
We have a few different ideas on how you can put these printables to good use. Take a look –
SUPPLIES –
cupcakes
berries
small flowers
scissors
2″ circle punch
tape
toothpicks
parchment, wax, or tissue paper
berry box or basket
clothespins
ribbon
Mother's Day Gift Printables (download below)

Directions –
Download and print the printables.
Cut out the card, the mother's day flag, and punch or cut out the berry circles.
Tape circles + mother's day flag onto toothpicks.
Place toothpicks into cupcakes.
Line a basket with tissue paper.
Fill the basket with your cupcakes, berries, and flowers.
Embellish the basket with ribbon.
Write a note in the card and attach it to the basket with tape or a clothes pin and you're done!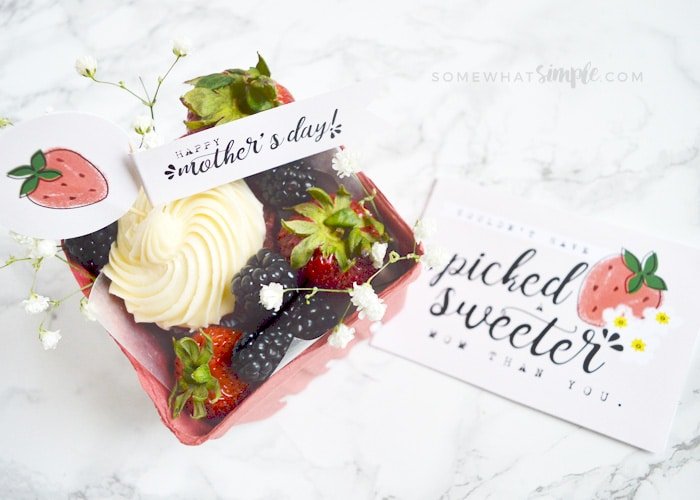 You can scale back this gift just a bit by swapping the big basket for a small berry box filled with 1 cupcake and some berries.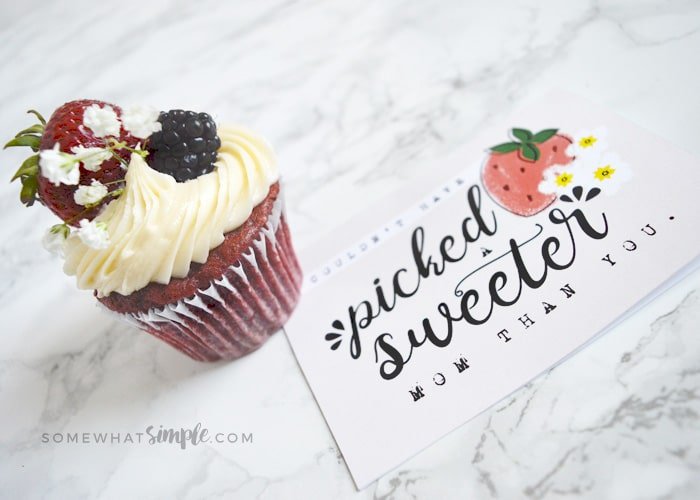 To make it even simpler, ditch the basket altogether, gift single cupcakes with added berries and flowers on top.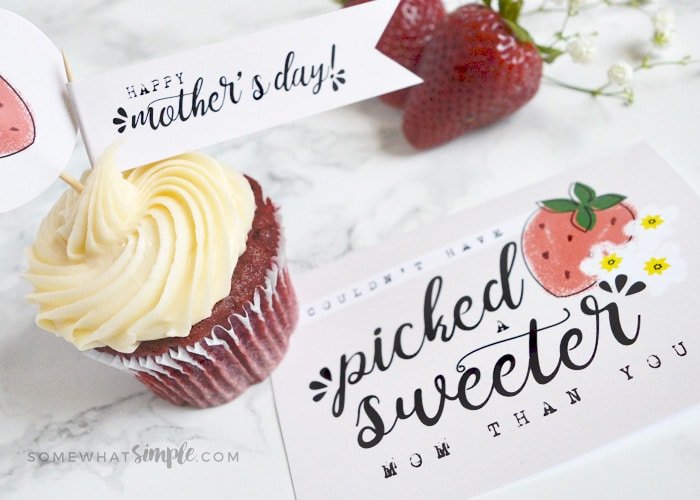 Not a fan of berries and flowers? Simple cupcakes with our printables stuck on the top are also very cute!
Aren't these ideas so fun? And they seriously don't take much time at all!
Free Mother's Day Printables
To grab a copy of our Mother's Day printables, enter you name and email address in the form below.
Have a great Mother's Day!