These darling free printable lunch box notes are the perfect way to make your child's day! It's never been easier to boost your child's self-esteem!
Looking for more ways to make your child's lunches a little more special? Here are a few lunch ideas we love – Sandwich Sushi, PB&J Pinwheels, and Bento Boxes.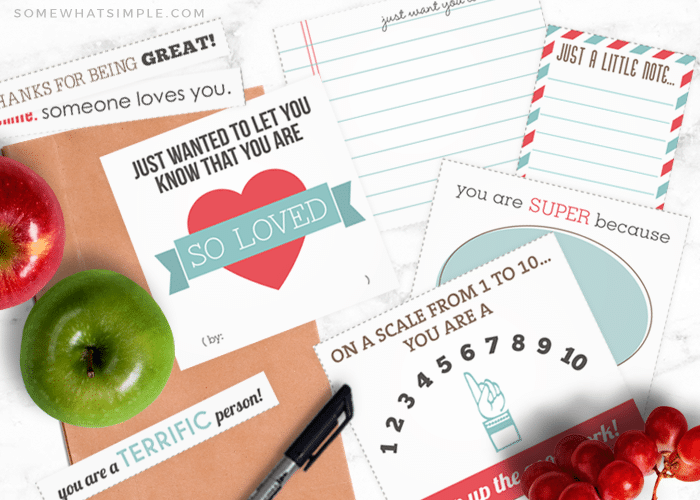 Back to School Lunch Box Notes
How school started for you guys yet? We are 3 weeks into school already and I miss summer so much! I mean, as much as I love structure and less chaos at home during the day, I also love the freedom that summer brings- to sleep in, to run errands on my own time, to do and be whatever, WHENEVER! And, let's be honest, homework each night is the WORST! I hate it. (Almost as much as I hate laundry.)
But then there are things I love about my kids being in school. And things I get excited about. Like these free printable lunch box notes. I just love how easy these are to let my kids know how special they really are to me. The world is bombarding them with false ideas of perfection and negativity, and we need to be making sure our voice drowns out theirs. 🙂
Free Printable Lunch Box Notes
SUPPLIES –
free printable lunch notes (download below)
printer
paper or cardstock
scissors
pen
DIRECTIONS –
First, download and print off these adorable lunch notes.
Cut them all out, and place the ones you won't be using immediately into an envelope or bag so they'll be ready to go the next time you need one.
Fill out one of the unique cards, and then place it in your child's lunch or backpack!
So easy, and so meaningful to those kids! I mean, what child doesn't love getting lunch box notes from mom in their lunch or backpack? My 10-year old saves each one I write, so I know it means a lot to him.
I know these lunch box notes will take a few extra minutes out of my already hectic mornings, but if I can make him smile even for a second during the day while he is away from me, and give him some encouragement and love… well then that is worth all the time in the world!
Ready to download these darling free printable lunch box notes?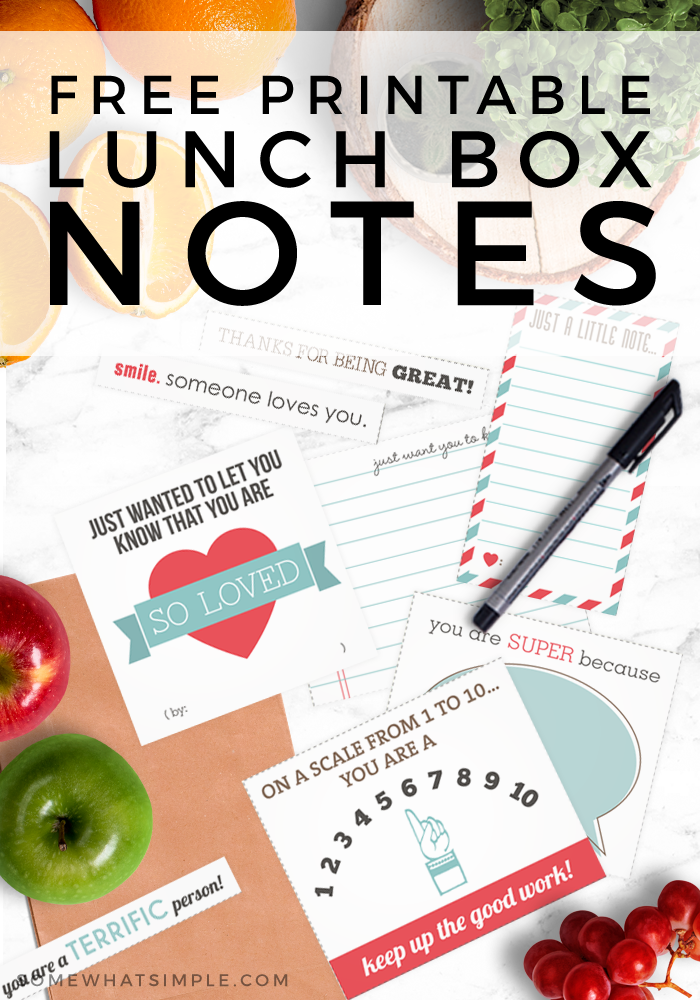 These lunch notes were created by Paper Coterie. Since this post originally publish in 2010, Paper Coterie has taken down their site. Which is a total bummer because they had some great ideas and products for sell!