Fill a basket for your spouse while they fill one for you on this fun Easter Date Night! Perfect for a group date or for just the 2 of you!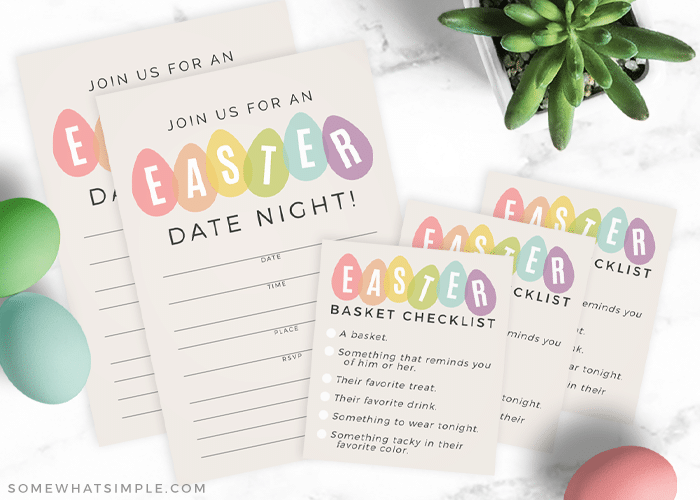 Celebrating Easter isn't just fun for the kids! Here's how to use our free Easter Date Night Printables to plan a hilarious group date, or a fun night with just the 2 of you!
Easter Date Night for Adults
SUPPLIES –
date night printables (download below)
$10-$20
dinner reservations or food to make at home
GROUP DATE DIRECTIONS –
Invites. Set a date and then send out invites to your friends. Include the date, time, and meeting place, and be sure to tell each couple to bring $$$ for the shopping spree and dinner.
Get Ready. Once everyone arrives at your home, divide the boys from the girls and give everyone a shopping list. Assign the boys to a certain store (Walmart or Target) and assign the girls to a different store. On a budget? Head to the dollar store!
Shopping Spree. Give everyone a set amount of time to get everything on their list before meeting at a certain restaurant or back at your house for dinner.
Assemble the Basket. The shopping list is designed to fill an Easter basket for your spouse, but it will also provide entertainment for the night, so get creative!
Dinner + Reveal. Once everyone is back at your home or at the restaurant you've decided on, have each spouse take turns showing the group what's in the basket you put together.
When we did this in our group, some of the items were HILARIOUS! Good times were had by all!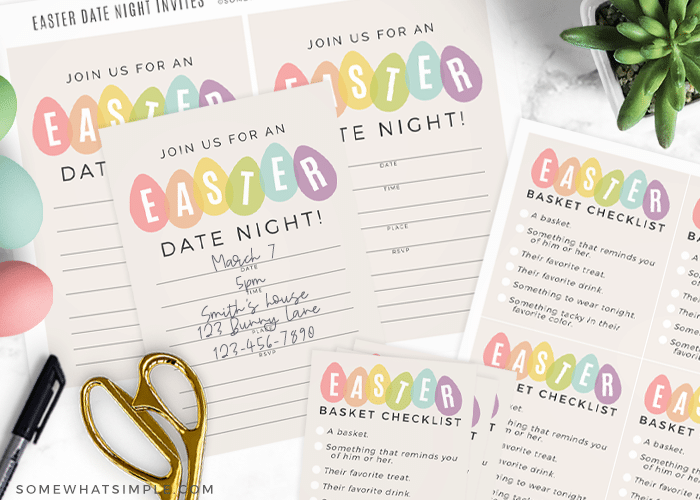 COUPLE DATE DIRECTIONS –
Invites. Set a date and then send out a special invite for your spouse.
Dinner. Start the night with dinner at a restaurant, or make it together in your home.
Shopping. Print out a shopping list for each of you and then head to the store. Once at the store, split up and give yourselves 20 minutes to get everything on your list. Check out without your spouse seeing what you bought and bring everything back home.
Assemble + Reveal. Present your spouse with their special basket on Easter morning.
This idea gives you something to look forward to on Easter Sunday!
Free Printables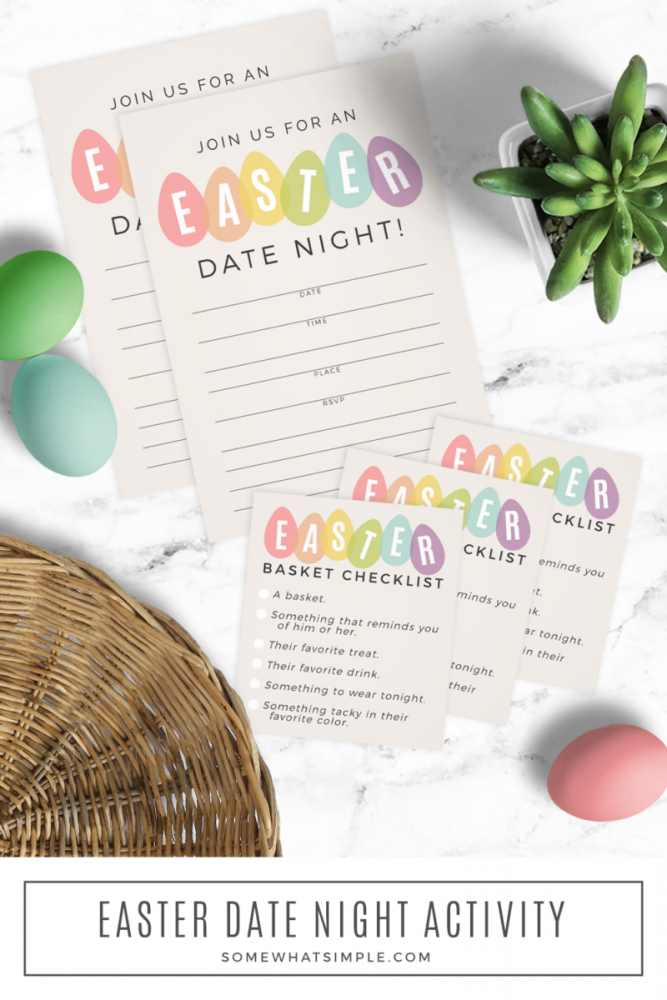 This post originally published in March 2012