Baby Shower Gift for Twins
With a few basic baby necessities and a fun way to wrap it all up, you can create a sweet and simple gift for twins and will spoil the momma to be!
Heading to a baby shower soon? Here are a few more ideas we think you'll enjoy – Handmade Baby Shower Gifts, Summer Baby Shower Gift, and How to Make a Diaper Cake.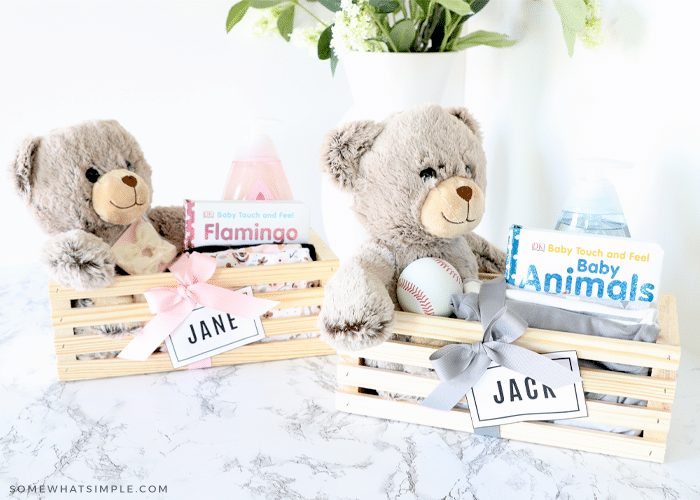 My good friend had 2 boys born a year apart and said she was DONE having kids forever and ever! Each time I had another baby, I told her she was going to be next and that the longer she waited, the more likely it would be that she'd have twins to "catch up with me!" 😉 Shortly after the birth of my 4th child, she called me one afternoon with a huge announcement! Much to her surprise (and my extreme JOY!), she was, in fact, pregnant and she was pregnant with TWINS!!!
To this day, she and her husband blame me for their "happy accident"… and I am totally ok with that!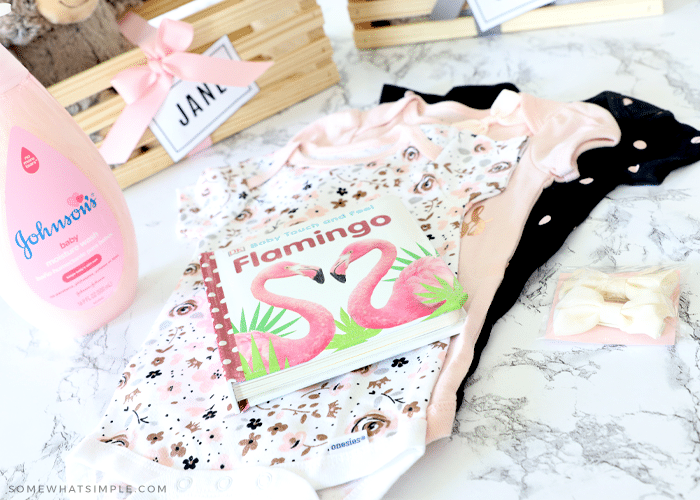 A Simple Gift for Twins
Her ultrasound revealed that she was having a boy and a girl, so I went shopping and bought some coordinating baby products in different colors- a pink bottle of baby lotion, a blue bottle of bath wash, a pink board book and a blue one, some girly onesies and some onesies for her son, etc.
I figured I could spend $5 on a gift bag and tissue paper, or I could spend the same amount on a cute basket that can be reused. I placed all the "girly" colored products in one basket and the "boyish" colored products went in the other. I attached a simple nametag to each basket and then tied them up with some ribbon.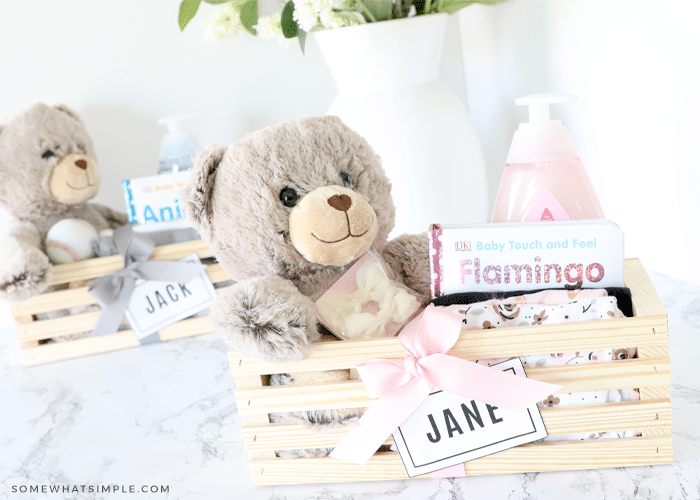 …and that's it!
So simple, right?
This gift for twins certainly be used for same-sex twins too! Simply put together a blue and green set of products for 2 boys or a pink and purple set for 2 girls. Browse the baby aisle of Target or Walmart and you'll see soooo many ideas of things you can buy!