Printable Monster Valentines
Printable Monster Valentines are perfect for little ones who prefer to leave the hearts and roses out of Valentine's Day!
Because some kids want to steer clear of all things pink and frilly, we created some Yo Yo Valentines, Star Wars Tic Tac Valentiness, and now these sweet Monster Sucka printables. School Valentines this year are going to be affordable simple, and fun!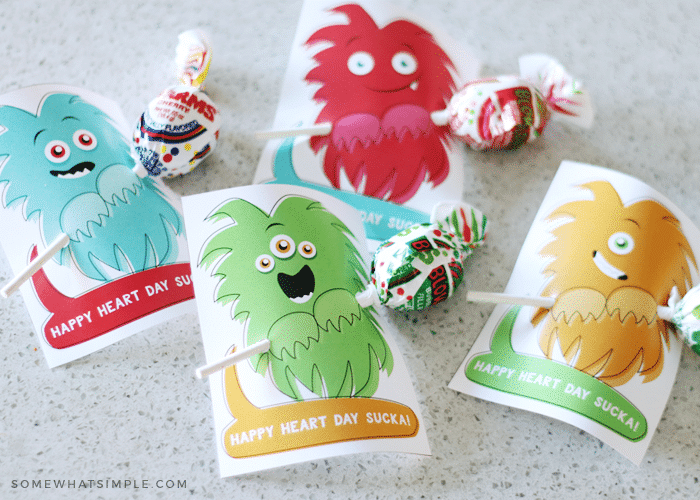 Printable Valentine Cards
When my oldest son was in elementary school, he hated Valentine's Day. He never wanted to pass out cards to his classmates because even the store-bought packs you could buy at Walmart would say things that were too mushy and sweet.
Each and every year I made it a goal to come up with an idea that he would be excited to hand out, and it actually made the day quite fun! These monster printables are one design he really liked a lot. I figured if my hard-to-please son approved, maybe there are other moms who could use them too!
Here is how to make them –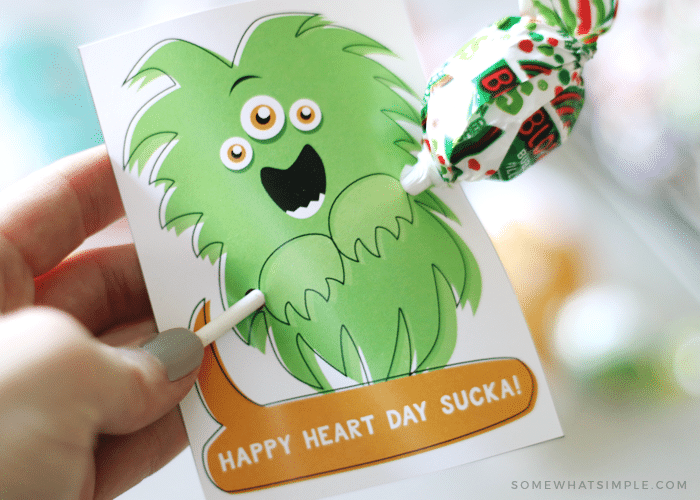 Monster Valentines
SUPPLIES –
printable monster valentine cards (download below)
scissors
pen or marker
small hole punch or X-Acto knife
DIRECTIONS –
Download print and cut out each monster card.
Have your child sign the back of the card.
Punch two small holes or cut a slit over the black dots shown on the monsters.
Slip a sucker through each hole so it looks like the monster is holding the sucker.
… and that's it!
Such a fun, simple Valentine Card – don't you think???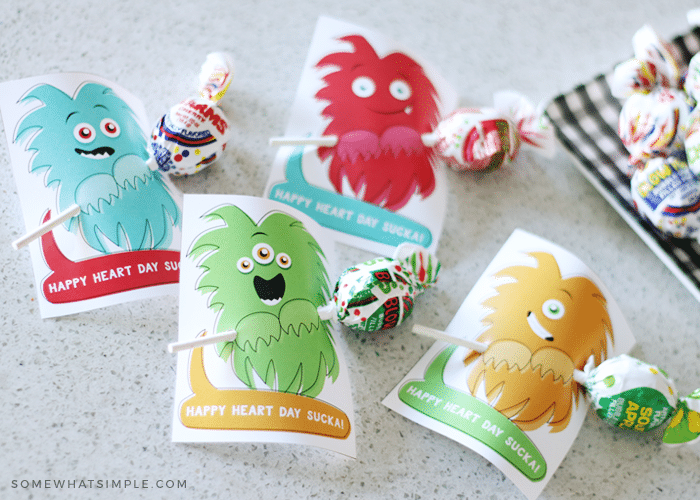 Ready to make your own Monster Printable Valentine Cards?
Please note – As with all our free printables, these monster Valentine printables are for personal use only. Please do not mass produce them, sell them, or claim them as your own. Thanks for understanding!
We hope you have a great Valentine's Day!