Little kids are going to LOVE this darling Handprint Ghost Craft! Grab our free printable and fun poem and make a sweet Halloween keepsake!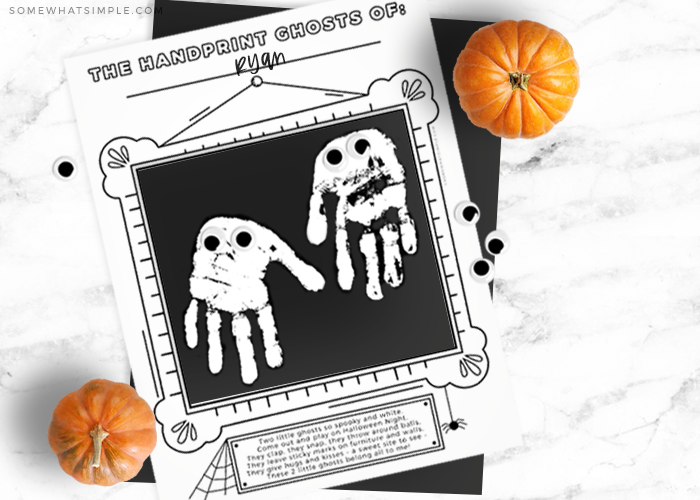 For our Halloween lesson in preschool last week, the kids created this fun ghost craft with painted handprints. I wrote a simple poem to go along with it and then we put it all together into a fun printable! Here's what the poem says –
2 little ghosts so spooky and white,
They come out and play on Halloween night.
They clap and they snap, they throw around balls,
They leave sticky marks on furniture and walls.
They give hugs and kisses- they're quite a site to see-
These 2 little ghosts belong all to me!
I love that this is something their parents can save to remember how little their kid's hands once were! I think it would be cute to frame it and pull it out year after year with the rest of your spooky decor.
Who knew black paper, white paint, and googly eyes could be so cute?
Here's how to make it – 
Handprint Ghost Craft
MATERIALS – 
free printable (download below) 
black construction paper or cardstock
scissors
glue
white paint + paintbrush
baby wipes or wet paper towels
googly eyes
DIRECTIONS – 
Download and print the Ghost Craft printable. Set aside.
Cut the black paper into a square to fit inside the square on the printable, then glue it to secure. 
Paint a thin layer of white paint onto your child's hand, then press their hand onto the black paper to "stamp" it. Have your child keep their fingers close together so the "ghost" fits onto the printable.
Repeat with the other hand, stamping it as close to the first one as you can. 
Glue two googly eyes to each ghost.
Let the paint and glue dry completely, and you're done! 
Simple and cute!
Want to make your own GhostS? 
Enter your name and email address in the form below for immediate access to the printable.