Summer Gifts – Orange You Glad It's Summer?
Simple summer gifts that will make your friends, teachers, neighbors, and coworkers feel extra special! Get ready for some fun in the sun!
Here are a few more summer gift ideas we love – End of the Year Teacher Gift, Personalized Necklace Gift, and Gift Card Printable.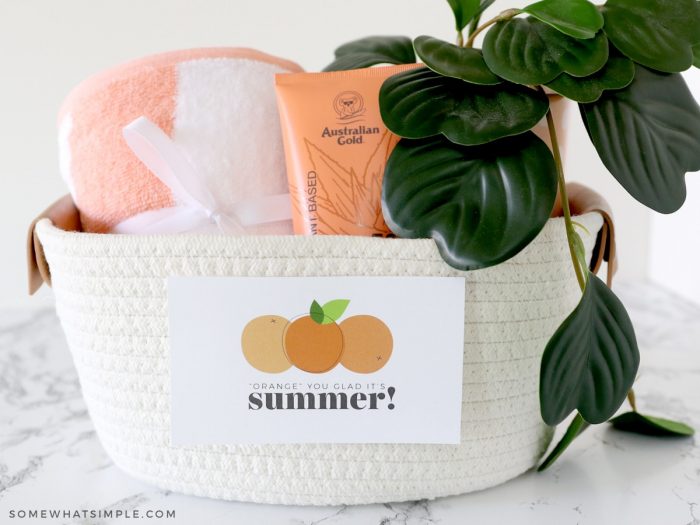 Can you believe summer is right around the corner? I feel like the end of the year always flies by and Teacher Appreciation week sneaks up on me! This year was one of the only years I was actually prepared, and I absolutely love how this gift turned out!
I came up with this idea several weeks ago while listening to my 8-year-old tell that orange/banana knock-knock joke- you know the one, right? (Please don't make me repeat it- we will be here all day!)
With this idea in mind, I went to the store in search of anything orange that my kid's teachers would enjoy. There are so many orange items in the store right now. I ended up buying sunscreen, a beach towel, and a cute orange plant pot and put together a sweet summer gift basket with a cute printable tag that looks so cute!
You don't even have to go all out with a large gift basket. Here are some simpler ideas –
Orange tumbler filled with orange candies & an Amazon gift card
Magazine with an orange candle and nail polish
Orange bowl filled with mandarins or orange treats
I love how versatile the contents of this gift can be. Keep it simple or go all out! I think this summer gift is perfect for teachers, but your friends, family, coworkers, and neighbors would definitely love it too! Here is how to make it –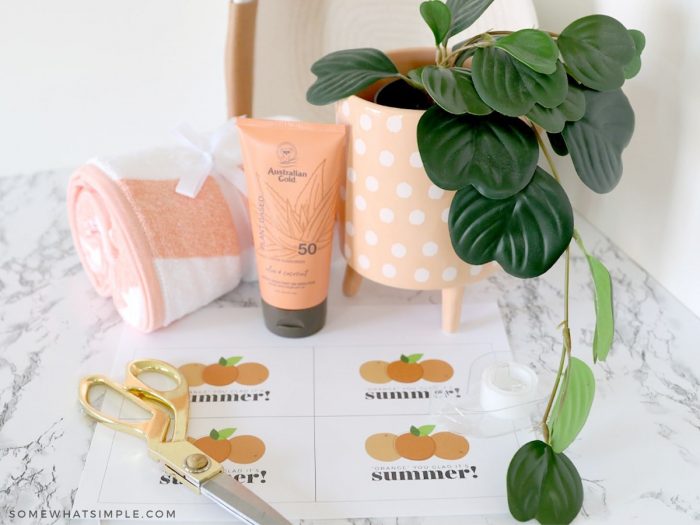 Simple Summer Gifts
YOU WILL NEED –
orange items – towel, sunscreen, candies, magazines, treats, flowers, summer decor, etc.
gift basket
"Orange You Glad It's Summer?" gift tags (download below)
scissors
tape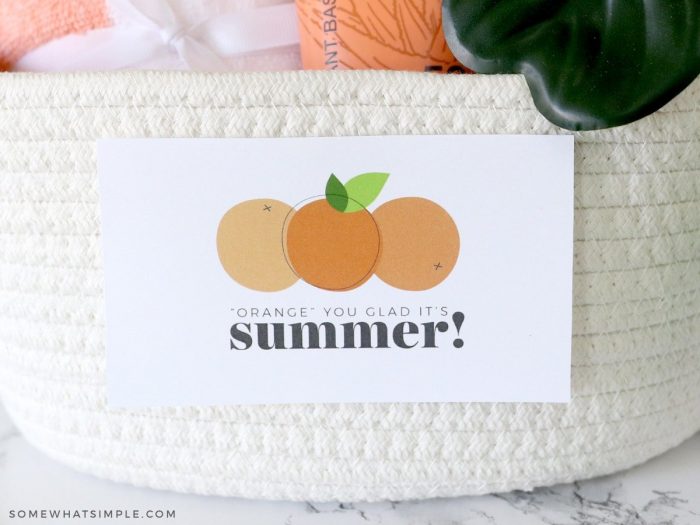 DIRECTIONS –
Download and print off our printable orange gift tags.
Fill a basket with all of your orange gifts.
Cut out a gift tag and attach the gift tag with some tape.
…and that's it!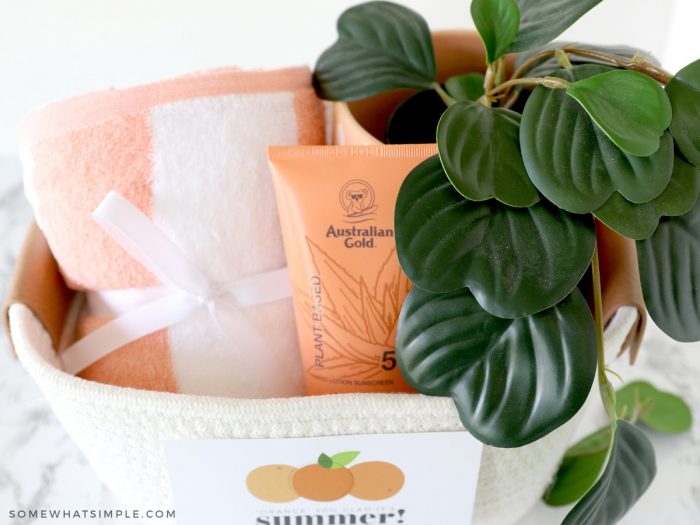 More Teacher Appreciation Ideas
If you loved this idea, you'll love these teacher appreciation gifts too!
Summer Gift Printable
Enter your name and email address in the form below for immediate access to this printable –
What are you doing for your child's teachers this year? We want to hear about it!
Happy almost summer everyone!