Halloween Toilet Paper Roll Craft
Printable Halloween characters rolled over TP rolls that kids can make and then play with! This fun Halloween Toilet Paper Roll Craft is perfect for kids!
Halloween is such a fun time to plan a party for my kids and these toilet paper crafts are the perfect activity. I also love serving these adorable Frankenstein Rice Krispie Treats, Mummy Cookies or Pumpkin Popcorn Balls at the party.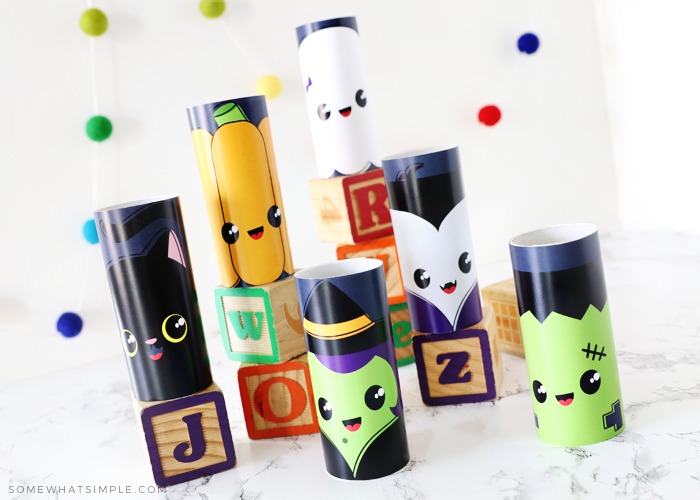 Easy Halloween Activity
Growing up, my mom had an adorable Halloween Village that she hand-painted. Being made of porcelain, we kids weren't allowed to touch it, which meant I desperately wanted to do so. I always wanted Halloween decor that I could just play with!
Now, as a mom, I find myself telling my own kids that some of our Halloween decor isn't to touch. Which reminded me of how badly I just wanted to play with the Halloween stuff when I was a kid. So I decided to design something that would be darling to display, but the kids could actually play with it (also not super creepy or scary), and if it was destroyed, we could print out some more!

How To Make Halloween Toilet Paper Roll Crafts
Supplies
Halloween Toilet Paper Roll Characters (link to download below)
Scissors or paper cutter
Tape or clue
Directions
First, print out our Halloween Toilet Paper Roll Characters – I recommend going to a print shop because of all the dark ink/colors that are used.
Cut out with scissors or paper cutter.
Glue or tape onto the toilet paper rolls.
Have fun!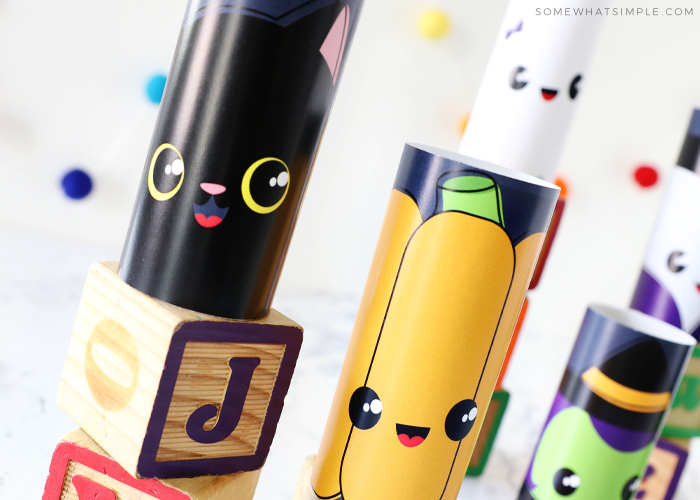 This is a great craft the kids can help out with as well. My kids love the fact that they can "decorate" and "redecorate" all day long! These also make a fun activity for a Halloween party for children.

More Fun Halloween Printables
Halloween Toilet Paper Roll Printable
This pack contains a darling witch, black cat, pumpkin, ghost, vampire, and Frankenstein. Ready to grab and create your own?
Leave us a comment below and let us know how they turned out. Hope you enjoy, and Happy Halloween!